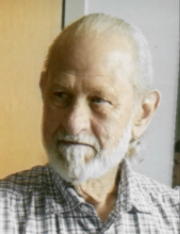 Billy Joe "Bill" "Pops" Reaser, age 80 years, a local businessman and a resident of Elkins, WV departed this life Wednesday afternoon, August 15, 2018 at Mon Health Systems at Morgantown WV. He had been in declining health, however death was unexpected.

He was born Tuesday, November 9, 1937 at Glenville, WV a son of the late Cecil Sherman Reaser, Sr. and Idra Orvilla Adams Reaser. On November 1, 1957 at Winchester, VA, he was married to the former Colleen M. Rogers, who preceded him in death February 7, 1993.

Surviving are one daughter, Kathryn M. Gilbert and husband David of Elkins, WV; two brothers, Cecil Sherman Reaser of Elyria, OH and James Blair Reaser and wife Nikkie of Grafton, WV; two grandsons, Billy Joe Gilbert and James Brandon Gilbert and wife Jessica; three great grandchildren, Emma Paige Gilbert, Greyson James Gilbert and Brendon Rhys Gilbert; and several nieces and nephews.

Preceding him in death is one brother, Thomas Lee Reaser.

He attended the schools of Gilmer County and Glenville High School. Following high school, he drove coal trucks until his employment with Dow Chemical/Schlumberger where he was a chemical engineer. During his career with Dow Chemical, he traveled all over the world, having lived in Libya and Venezuela.

Following his retirement in 1986, he opened B & J Pawn Shop and later B & J Music., where he worked alongside of his son-in-law, David, whom he loved like a son. He loved spending time with his children and grandchildren.

He was married to his off road equipment and especially his tractor. He enjoyed hunting with his family in Gilmer County and his hunting and fishing trips with the Outdoor Option Team, Cecil, Dan, Danny and Shannon.

The family will receive friends at the Lohr & Barb Funeral Home of Elkins on Tuesday, August 21, 2018 from 11 a.m. to 1 p.m., the funeral hour. The Rev. Terry A. Burgess will officiate and interment will follow at the Mountain State Memorial Gardens Mausoleum at Gilman, WV.