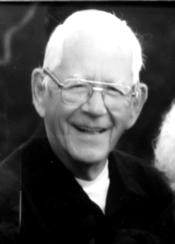 Floyd Earl "Mutt" Lowe, Jr., 93, of Elizabeth, WV, passed away Friday, Aug. 17, 2018, surrounded by his loving family.

He was born in Wirt County, the son of Floyd and Sissy Cooper Lowe.

He was a graduate of Wirt County High School, served in the US Navy during World War II and retired from Goodyear after 30+ years as a supervisor. Mr. Lowe was an avid hunter and fisherman. As a young man, he attended Elizabeth United Methodist Church. He was a member of Cottage Grove Church of God of Akron, Ohio, that was started by his wife Pastor Betty Lowe. Most recently, he attended the Newark Christian Fellowship.

He was preceded in death by his parents; wife Betty; and siblings Lloyd, Robert Sr., Bernard, Jack, Twilla, Alberta, and infant twins Pearl and Percy and son-in-law Leslie Duckworth.

Mr. Lowe is survived by his children Greg (Patty) Lowe of Xenia, Ohio, Mark (Becky) Lowe of Palestine, Cindy Duckworth of Elizabeth, and Cheyenne Lowe of Akron, Ohio; grandchildren Spencer Lowe, Donavan (Lorena) Lowe, Niki (Bryon) Garrett, Mark (Erica) Lowe, Adam (Beth) Lowe, Seth Lowe, Jacob (Cindy Logan) Lowe, Miriah Nolin and Micah Wetmore; great-grandchildren Dylan Lowe, Dawson Lowe, Leighana Lowe, Zach Garrett, Noah Garrett, AJ Garrett, Reagan Lowe, Sarayaha Lowe, Mallory Lowe, Marissa Lowe, Michael Lowe and Hermione Wetmore.

Visitation will be Monday August 20, 2018, from 4-8 pm at Matheny Whited Funeral Home of Elizabeth, WV. Funeral will be held Tuesday August 21, 2018 at the Elizabeth United Methodist Church at 2 pm with visitation beginning at 11 prior to the service. Military Graveside rites will be held at K of P Cemetery of Elizabeth, WV.

In lieu of flowers, donations may be made to Newark Christian Fellowship, 217 Enterprise Rd., Palestine, WV 26160.