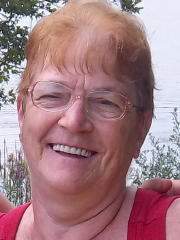 Barbara "Sue" Pepper 72, of Munday, passed away August 3, 2018 at Camden Clark Medical Center.

She was born in Wirt County the daughter of the late James and Clara (Jones) Kelley.

Barbara was a 1964 graduate of Wirt County High School, retired from Wirt Inflatables-Mustang Survival after 30 plus years of service, and was an active member of Wolverton Cemetery Association. She enjoyed gardening, canning, fishing, camping, flowers, Pepsi and Jeep rides, and loved spending time with her family and grandchildren.

She is survived by her husband of 54 years Robert "Bob" Pepper; 3 sons, Terry "Joe" Kelley, Brian (Christie McIntyre) Pepper, and Robert "Bobbie" (Carri) Pepper all of Munday; grandchildren, Samantha Kelley, Quinten "Slade", Adain, Jordan, Payton, Ridge, Ryder, Harper and Liam; great granddaughter, Wilhelmina Mae Myers; sister-in-law Betty Kelley, her Fur Baby "Sassy"; 5 sisters, and several nieces and nephews.

Services will be 1:00 p.m. Saturday Aug. 11, 2018 at Matheny Whited Funeral Home of Elizabeth. Visitation will be Friday Aug. 10, 2018 from 4 to 8 p.m. and Saturday from 11 a.m. until time of service. Interment will be at Wolverton Cemetery of Munday.