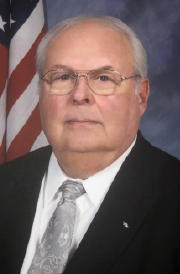 John Sinclair Stump, 77, of Grantsville, WV passed away on Tuesday, July 31, 2018 at Camden-Clark Medical Center, Parkersburg, WV following a fall and extended illness.

He was born July 3, 1941, the son of the late Ira Charles "Bunk" and Wilma Jarvis Stump.

He was a Calhoun High School Class of 1959 graduate. He majored in business at Marshall University. While there, he was a two-year member of the Army ROTC program. He was a 1962 honor graduate of Cincinnati College of Mortuary Science. Following college, he served in the US Army. He served in the Army Chaplain Corps at Fort Knox and later, in the Army Reserve as an MP. He was a member of Linden Lodge #83. He was a 32nd Degree Scottish Rite Mason and a member of Nemesis Shrine.

He began working at Stump Funeral Home as a 9 year old boy and answering ambulance calls at the age of 16. He served over 60 years in the funeral profession as a fourth generation funeral director and embalmer, following his father, his grandfather, Ira N. Stump and his great-grandmother, Martha E. Bennett Stump, who founded the business. The funeral business evolved from Martha's furniture store, where she provided caskets, in the late 1890's. He served several years on the West Virginia Board of Funeral Service Examiners.

He was a member of First Baptist Church of Grantsville where he served as a former Deacon and Lay Speaker.

He enjoyed hunting and fishing most of his life especially with his children and grandchildren. He was especially passionate about squirrel hunting.

In addition to his parents, he is preceded in death by an infant daughter, an infant granddaughter, Holly Renee Stump, son-in-law, Thomas Krugman, and his father-in-law and mother-in-law, Rev. Glendon and Eupha Hicks McKee. He is also preceded in death by his beloved companion of 18 years, his Bichon Frise, "Millie".

He is survived by wife of 56 years, Roanna McKee Stump; daughter, Rhonda Krugman (Richard Butler); son, J. Neil Stump (Gina); grandsons, Zachary Krugman (Erika Mohler), Ethan Krugman (Alyssa Young), Eli Stump, and Levi Sinclair Stump; granddaughters, Emily Krugman (Jonah Law) and Isabella "Ellie" Stump; and great-granddaughter Kohlbi Knicely.

A funeral service will be held at 5:00 p.m. on Sunday, August 5, 2018 at Stump Funeral Home & Cremation, Inc., Arnoldsburg, WV with Rev. Rick Metheney, Rev. Carroll McCauley, and Elder Gene Miller officiating.

Visitation will be from 2:00-5:00 p.m. Interment will be in Bethlehem Cemetery, Grantsville, WV, which is situated on what once was the home place of his great-grandfather, S. T. Stump.

Online condolences may be expressed at www.stumpfuneralhomes.com

The Stump family would like to express special thanks to Doddridge County EMS, Dr. Mirza Hamarani, Dr. Murad Khalil, and Dr. Richard Watson for their thoughtful and compassionate care.