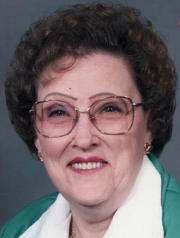 Beverla "Bev" Kendall, 89, of Mineral Wells, passed away on Tuesday, July 31, 2018 at the Parkersburg Care Center.

She was born March 26, 1929, in Calhoun County, a daughter of the late Edward W. and Lillian W. Fredrick Bennett.

Bev enjoyed working puzzles, word search puzzles and especially liked sewing and crocheting. She attended the Rush Run Baptist Church.

She is survived by her daughter, Conna Harris (Alva) of Mineral Wells, WV; son, Kenneth Kendall (Beverly) of Clarksburg, WV; sister, Latrecia Thomas of California; grandchildren, Tammy Harris of Parkersburg, WV, Chuck Kendall (Crystal) of Grantsville, WV and Casey Bryant (Tommy) of Clarksburg, WV; great-grandchildren, Charles Kendall III, Daniell Kendall and Shawn Kendall all of Grantsville, WV and Makenzie Bryant of Clarksburg, WV; and a very special family friend, Kate Modock of Elyria, Ohio.

In addition to her parents, Bev was preceded in death by her husband, Charles Rimer Kendall; one son, Charles Roger Kendall, Sr.; and one sister, Kathleen Gut.

Funeral services will be held at 11:00 a.m. on Friday, August 3, 2018 at Lambert-Tatman Funeral Home, 2333 Pike St, south Parkersburg with Pastor John Vannoy officiating. Interment will follow at Collins Cemetery in Stumptown, WV. Visitation will be from 2-4 and 6-8 p.m. on Thursday at the funeral home.