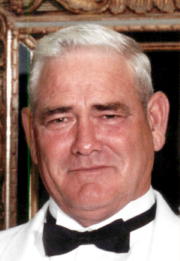 Nelson "Tinker" Reed of Glenville, a hopeless flirt, avid hunter (he particularly loved stalking game from the front seat of his car or the plastic chair in the back yard), unwilling farmer, meal connoisseur, expert hugger, questionable dresser, accomplished recliner rider, devotee of The Western Channel and RDTV, lover of bluegrass and old-time music, and all-around cantankerous old fart, went to that Great Coon Hunt in the sky on July 26, 2018.

Nelson, or "Pose" to his closest friends never met a stranger or a lady that he didn't like. He loved his mother Esta Long Reed (deceased) and his older sisters Marion Reed (deceased) and Georgia Reed Sergent (deceased), each a character in their own right. And he loved the Lady Pioneers and was a fixture for years at their basketball games. However, the two most important women in his life were his daughters Pamela Michelle Williams of Greenwood SC and Peggie Marie Nielson of Cypress TX; even though they tried to get him to exercise and eat broccoli. He taught them to hunt, how to use a set of jumper cables, to love the outdoors, the value of family and not to take crap from anyone.

Nelson was incredibly proud of his son Jeffery Glenn Reed of Clarksville VA. He would always ask; "where's Jeff now, is he home or traveling?" Jeff would drop anything at a moment's notice to come home and be there whenever needed. They were even able to co-habitat with one another when Jeff was a boomerang child that returned home to work locally.

The Reed Boys, referred to as "hoodlums" by their sister Georgia, possess a family trait for stubbornness that connected Nelson with his brothers Robert Brooks "Bob" Reed, Jr. of Glenville WV and Andrew Jackson "Jack" Reed also of Glenville. They loved to argue about when to cut hay, directions, if the sun is shining, current events, politics or how "to do" anything. And no matter what was done, it was never done the way he would have done it, "Well, I 'pose I would have . . ." he was often heard to say. Once he formed an opinion, there was absolutely no changing his mind. The"hoodlums" had an unbreakable bond and character instilled in them by their father, Robert "Brooks" Reed, Sr. (deceased).

Pose was a trendsetting fashionista and took style cues (and advise) from no one. His signature look was a sweatshirt (usually sporting a stain from the previous meal), his elastic waist shorts or pants worn above the belly-button, a pair of Crocs or untied sneakers, often paired with a baseball cap or his signature straw hat in summer.

He excelled at growing turnips and parsnips and took great pride in his gardens, but never managed to master the rototiller with the skill of his beloved sister-in-law Cricket (Edwards) Reed. He spent hours scouring for White House vinegar jars, West Virginia made marbles, pocket knives, foreign coins, wheat pennies, arrow heads, fiddles, and junk in general. His hunting skills and his ability to rid the meadows of groundhogs were renowned (just ask him), along with his ability to spin yarns.

He took extreme pride in his four grandchildren Russell Brooks Williams, 23 of Waycross GA, Olivia Marie Williams, 20 of Greenville SC, McKenry Glenn Nielson, 18 of Cypress TX, and Thomas Reed Nielson, 15, also of Cypress TX. He was looking forward to the arrival of his great-granddaughter Brook Sinclair in November of 2018, even though he would vow and declare to anyone that would listen, that he was much too young and too handsome to be a grant-grandfather. He also took pride in his service in the US Navy and serving as a Gilmer County deputy sheriff.

He had a life-long love affair with food; brown beans, fried potatoes, Jiffy cornbread mix, desserts often supplied to family functions by his much-loved sister-in-law Wanda Bailey Reed of Glenville, fried squash, Club crackers with "butter spread", lemon meringue pie, squirrel, pancakes covered with maple syrup, and sausage gravy, and anything else that he wasn't supposed to have.

Nelson traveled extensively - from his recliner, to the Common Place Restaurant (now Cornerstone Café), the Gilmer County Senior Citizens Center and the 33 Country Club. On occasion, would venture all the way to Clarksburg or Flatwoods, but seldom found need to leave his beloved Sycamore Run or the home he built and lived in since 1966.

He had little use for Republicans, snakes, spending a penny, technology, drug dealers and the need to drive over 20 mph.

Along his journey, Pose was blessed to have many angels in his life, some that are still with us and others that have gone on; after all, it truly took a village, and while his children weren't fortunate enough to know each of them, they would like to thank Peggy and Fred Moore, Sherry Reed Ratliff, Midge Woizesko, Carol Reed Wolfe, Sandy Reed Gumm, Berk Reed, Jennifer Short, Karen Shackleford, Becky and Chuck Junkins, Kelly Ratliff, Lori Plummer, Sandy McNemar, Mitch and Arlene Snider, Kenny Connell and Glenn Hess for the love, kindness, support and patience shown to him over the years.

Friends and family are invited to celebrate what would have been his 80th birthday on August 1, 2018 at the 33 Country Club, 4590 US Highway 33 E, Glenville, WV from 6:00 to 8:00 p.m. Nelson dearly loved his "holler" and had no desire for a funeral.

His wishes are to be placed under the maple tree on the farm, details will be announced at a later date.

The family asks that you make donations in his memory to the Gilmer County Senior Citizens Center, the Glenville State College Women's Basketball program and/or Glenville State College Bluegrass Music Program.