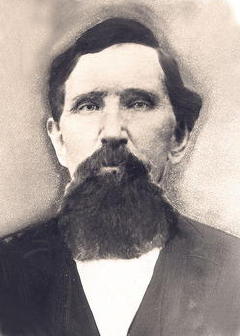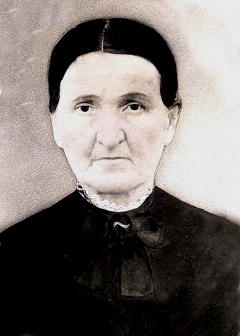 Illustrious newcomer George Lynch (1813-1895) and wife Jermima
Knotts Lynch (1827-1893) came to Altizer along the West Fork of the
Little Kanawha in 1843, having 14 children, several that died early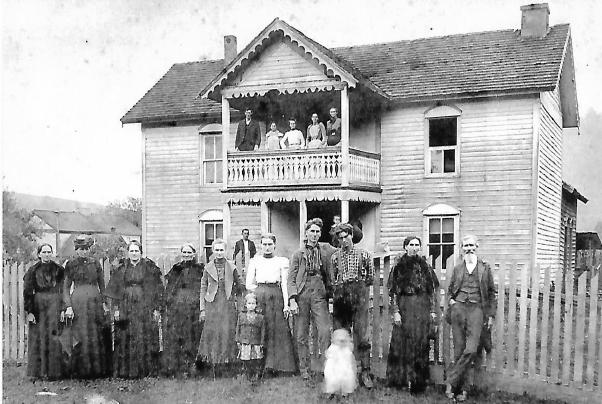 Lynch clan at homestead in 1901, following
the death of George, Jr. and his wife (Ronzil Lynch Photo)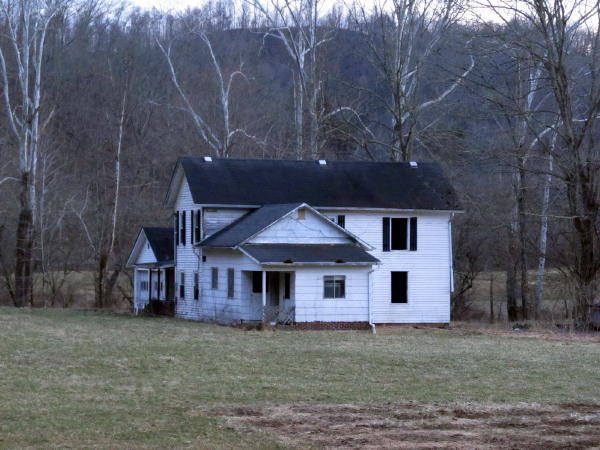 Photo taken of Lynch homestead in 2015 before it was taken down
RON LYNCH/HUR HERALD PHOTOS
By Bob Weaver 2018
George Lynch was a relative newcomer to the lower West Fork of the Little Kanawha at Altizer, essentially coming to the same property as Calhoun's first permanent settler Philip Starcher, who came in 1810.
He married Jermima Knotts, daughter of pioneer Joseph Knotts in 1843 and had 14 children: Mary, 1844; Joseph K., and Julia Ann, 1845; Pembroke, 1848; Louisa, 1851; Rufus,1853; Amy, 1856; Sarah E. 1858; Almira E., 1860; Leuverna S. 1863; Kosciuske and Pulaski, 1866; George L., 1868; Matilda J., 1870.
Lynch established a grist mill near his house and was active in farming, and served in the WV Legislature in 1870, representing Calhoun and Gilmer and in 1871-72 he was the representative from Calhoun and Ritchie Counties.
The grist mill, later becoming a country store and post office, was a center of the community, in addition to the one-room Lynch School. Nearby was the original log Stoney Point Church.
Lynch helped establish one of the areas first Sunday Schools about 1850.
The first county court ever held in what was to become Calhoun convened at the home of Joseph W. Burson at Big Bend, on the fourteenth day of April 1850.
They appointed Lynch as a Justice of the Peace, holding a commission as such signed by his excellency the governor of the Commonwealth of Virginia, in addition to Hiram Ferrell, H. R. Ferrell, Joshua Knight, Absalom Knotts, and William Brannon. For a number of years he was surveyor for the county.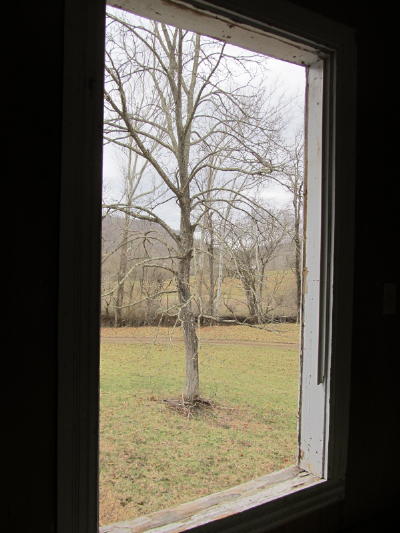 It was out the window (above) that Lynch looked upon his West Fork Valley holdings, photo taken in 2015 by Hur Herald before it was torn down, Lynch living through the bitter location battle for selecting the county seat at Arnoldsburg or Grantsville and the even more bitter Civil War conflict, which pitted families against the other
Near the Lynch homestead is the Lynch Cemetery, where George, Jr. and his wife are buried, among other family members and early families to the community, including Kingsbury and Whytsell.
OBITUARY GEORGE LYNCH JR.(1813-1895)
It is with a feeling of sadness and thoughts of the transitory nature of all earthly things that I write of the death of one generally known throughout the county and to a large number of the most prominent citizens of our State, and familiarly called "Uncle George Lynch," who died of fever, after a brief sickness of about a week, at his home on the West Fork, last Saturday, in the 84th year of his age.
Uncle George was born in what is now Webster county, W. Va., but was one of the first settlers of this county. He was a good, honest, upright and useful citizen, having served the people of this county, faithfully as a surveyor. He also represented the county in the legislature for two terms.
He was a most unassuming man and ever kept "In the even tenor of his way" and seemed alike unaffected by the allurements of fame or personal aggrandizement.
A plain, common, sensible and useful man, and noted for his homely wit and good humor, being fond of innocent jest and mirth. Uncle George possessed many noble traits of character, such as patience, kindness, contentment, fidelity for duty and others.
I have often thought that the words of Mill Brandon, "O what a blessed gift of heaven is a calm and serene spirit that wraps its possessor as it were in the sunlight and which like the radiant cloud that proceed the ... in the wilderness impart its moving brilliancy to all beholders," were applicable to him.
Uncle George married a sister of Capt. A. Knotts, who with several of their children have preceded him to the spirit realm, yet there are other children and grand-children left to mourn his loss. To all of who we tender our sympathy. We do not know whether Uncle George ever made a public profession of religion or not, be that as it may, "The Kingdom of God is here or there!