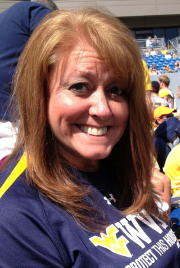 Katherine B. "Kathy" McVey, 57, of Elizabeth WV, passed away at her home July 19, 2018.

She was the daughter of the late James Robert and Mary Overton Bailey of St. Marys WV.

She was a 1979 graduate of St. Marys High School and a 1983 graduate of Marshall University.

She is survived by her children Jacqueline "Nikki" McVey of Elizabeth, WV, Natalie McVey of Bayonne NJ, and Austin McVey of Elizabeth; grandchildren Silas and Reagan McVey of Elizabeth; sister Cindi Zittle (Jay), nephew John Robert Zittle (Kate), sister-in-law Mary Bailey, nephews Danny and Sean Bailey, all of Raleigh, NC.

She was preceded in death by her parents and her brother John Bailey.

She was a member of the Elizabeth United Methodist Church. She worked for Reagle and Padden Insurance as a claims manager for 27 years. She loved her grandchildren, playing solitaire, singing and all sports, particularly WVU sports. One of her fondest memories was beach trips with her family.

Visitation will be Sunday July 22 from 4-8 pm at Matheny Whited Funeral Home. The funeral will be Monday, July 23 at Elizabeth United Methodist Church at 1 pm, with visitation 2 hours prior to the service. Rev. Craig Blankenship and Pastor Jim Bruce will officiate. Burial will be in the IOOF Cemetery of St. Marys WV.

In lieu of flowers, memorials can be made to the Elizabeth United Methodist Church.