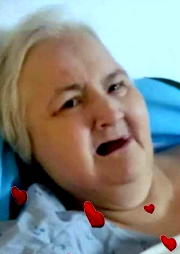 In loving memory of Constance Cecilia "Connie" Ables age 70 of Jakes Run Road, Glenville WV, she went to join her beloved husband Jearl (Cussy) Lee Ables on July 10, 2018 at the Ruby Memorial Hospital in Morgantown following an extended illness.

Born October 24, 1947 in Cleveland, Ohio, Connie is the daughter of the late Leonard and Mary Ann Sotka Vanloozen.

Connie was a homemaker who loved caring for her family, spending time with family and friends, and spoiling her grandchildren and great-grandchildren whenever possible.

Surviving are 3 daughters, Patricia Ann and husband Ben Murphy of Glenville, Sharon Ables and Stacy Ellison of Ohio, and Holly Puffenbarger and Dave Williams of Jane Lew, Michael Puffenbarger and fiancée Joni Raulston of Glenville, Stacy Ellyson Jr. of Ohio, Christopher Puffenbarger and wife Shiann of Spencer, Jasmine Ellison, Corina Ellison, Kaitlyn Puffenbarger, Quinton Ellison, Veronica Puffenbarger, and Lucas Ellison, all of Ohio, and 7 great-grandchildren, Jacob, Shain, Brentley, and McKenzi Puffenbarger of Glenville, and Adilyn, Mia, Grayson Ellison of Ohio.

Also surviving are 5 siblings, Frankie, Richie, Bobbie and Chris Vanloozen, all of Ohio, and Teresa Deaton of Ohio, and countless nieces, nephews, and other family and friends.

Along with her husband and parents, Connie is preceded in death by 3 sisters, Marion, Jacky, and Diane; 1 brother Leonard; and 1 great-granddaughter, Sophia Marie Puffenbarger.

Burial was conducted at the Hiney Cemetery in Linn, WV on Saturday July 14, 2018 with Brother Jason Cosner officiating.

The family of Connie Ables would like to take an opportunity to thank anyone and everyone who helped care for Connie in her final days. Your thoughts and prayers are greatly appreciated.

Ellyson Mortuary Inc. is assisting the family of Connie Ables with arrangements.