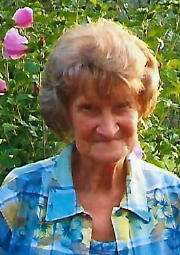 Norma Ruth Burns-Boone of Glenville, WV went to be with her Lord and Savior on July 7, 2018 at age 84.

She was born to the late Jack Carl Burns and Mae Minney-Burns on March 3, 1934. She became the wife of the late Dean Boone on January 6, 1951.

She is survived by her children Barbara Boggs (Henry), Joyce Riddle (Randall), Lynette Wilford (Thomas) and William Dean "Bill" Boone; her grandchildren Henry Boggs Jr., Jeremy Boggs, Ashley Fox, Amy Chapman, Miranda Yeager and Amber Wilford; her great grandchildren Heaven, Seth and Meadow Boggs, Regan and Riley Thomas and Addison Boggs, Owen and Emma Fox, Olivya and Wyatt Yeager and Jace Elijah Dean Wilford; her brothers and sisters William Franklin "Bill" Burns, Jack O'Brien Burns, Richard Burns, Margaret Bishop, Bonnie Miller, Betty Cox, Burnice Hall, Dolly Burns, Janice Frame, Kimberly Frame and her very special cousin Sandy Williams of Grafton, Ohio.

She was a faithful member of the Chestnut Grove Independent Baptist Church located on Tanner Creek Road in Glenville, WV.

Visitation will be held on July 11, 2018 from 4:00 p.m. until 5:00 p.m. at the Chestnut Grove Independent Baptist Church. The funeral services will immediately follow. Pastor Vane Bush will preside over the services. Songs will be provided by Pastor Donnie Stout and his wife Paula Stout.

In lieu of flowers, you may make a donation to the Chestnut Grove Independent Baptist Church Graveyard Fund 13322 WV Hwy 5 West, Grantsville, WV 26147.

Ellyson Mortuary, Inc is honored to assist the family of Norma Ruth Burns-Boone with arrangements.