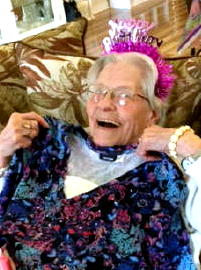 Dorothy Pauline Dotson, 102, passed away July 8, 2018 in Bradenton, Florida.

She was born January 14, 1916 in Kanawha County, WV, daughter of Dwight Lyman and Opha Mae Hylbert Walker.

She graduated from Spencer High School and Glenville (WV) College with a Bachelor's degree.

She married Orville Clyde Dotson June 4, 1939. They both were school teachers at Calhoun County High School in Grantsville, WV, Lancaster, Ohio and in St Petersburg, Florida.

(Mrs. Dotson shown right, celebrating her 101st birthday)

She and her husband retired to Manatee County Florida in 1978 where her husband Clyde died December 11, 2002.

She was a member of Bethany Baptist church in Myakka City, Florida for 40 years.

Her parents, her brother, her sister and a son, Phillip Harmon Dotson, preceded her in death.

She is survived by a son Erroll Walker Dotson of Prescott AZ, a daughter Betty Dotson Renick of Parrish FL and a daughter Patricia Dotson Christenson of Bradenton FL, along with 7 grandchildren, 9 great grandchildren and 2 great great grandchildren.

Services will be July 11, 2018 at 11 a.m. with Pastor Guy Glass officiating. Burial will be beside her husband in the Bethany Cemetery.