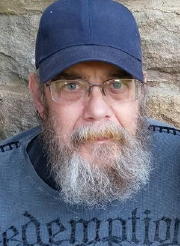 Philip David Skidmore, 59, of the Little Bull Run community of Glenville, WV passed on June 29, 2018 surrounded by his loved ones after a battle with cancer.

He was born to Mary Helen McLaughlin Skidmore and Scott Skidmore at Kessler Air Force Base in Biloxi, Mississippi and grew up in the Cedarville/Copen Communities.

He graduated from Gilmer County High School in 1977 and went to work in the oil patch. An injury in 1986 prevented him from working again.

"Philmore" was an avid motorcycle enthusiast and loved riding his 1964 Harley Davidson panhead and spending time in the holler with his family and friends.

This "well-groomed mountain man" and self-claimed "biker-type hippie" will be very missed by his family and friends.

He is survived by his daughters, Osha Crouch (Steve) of Auburn WV, Sierra Carns of Normantown WV, Katie Skidmore and and Joella Broome of Glenville; one sister, Kathy Minigh of Glenville; niece and husband Tammy and Arch Moore of Glenville; nephew and wife, Adam and Christina Minigh of Glenville, niece and husband Kimberly and Wade Mace of Grantsville, and great nephews and nieces, Cody Moore, Hunter Moore, Hannah Moore, Kinley Minigh, Abram Minigh, Lainee Mace and Hallie Mace.

He was preceded in death by his mother, father, aunts, uncles and many friends.

Philmore has been buried immediately per his wishes in a very small ceremony with family. There will be a celebration of life on Saturday, July 7th starting at noon at his residence at 1546 Dry Fork Rd, Glenville WV. Friends are asked to bring a covered dish, pictures or just a story to share while we enjoy each other's company and celebrate his life. Special thanks to the staff at WV Caring for helping the family through this difficult time.