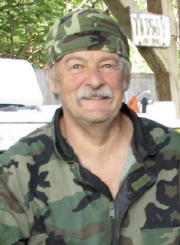 Robert Millard 64, of Palestine, WV, passed away June 19, 2018 at Camden Clark Medical Center.

He was born December 14, 1953 in Brookings, Oregon and served in the United States Army during Vietnam. He was a graduate of the School of Hard Knocks and was a self employed contractor. He was a Hero to some and a friend to all.

He is survived by his wife Holly; mother Barbara; 4 daughters, Heidi and Christina of Oregon, Sierra of West Virginia and Arianne of California; 1 son Vern of Oregon; 7 grandchildren, Kaydyn, Yse, Eva Luna, Kolton, Kyvin, Selena and Sofia; 4 brothers; 1 sister, and several nieces and nephews.

He was preceded in death by his father and 1 brother.

A Celebration of Life will be held Saturday July 7, 2018 at 1:00 p.m. at the Creston Community Building, 340 Annes Run Rd, Creston WV. A dinner and a time of gathering will follow the services.