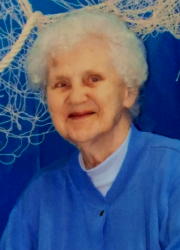 Joyce Constance Wheeler, 92 of Grantsville WV passed from this life Thursday, June 28, 2018 at Minnie Hamilton Health Care Center. She was a former Lincoln County resident.

She was born March 14, 1926 in Osh Kosh, Wisconsin. The daughter of the late Clarence and Elizabeth Phillips Alverson.

In addition to her parents, she was preceded in death by her husband of 48 years, Alvin W. Wheeler, whom she married in 1943 and by one son, Bobby L. Wheeler and one daughter, Joyce E Chandler.

She is survived by five sons, Alvin "Buddy" Wheeler and Samuel Wheeler both of Lincoln County. Dana Wheeler of Lubec, WV. Orval and Roger Wheeler of North Carolina and one daughter Rosetta "Connie" Toppings of Grantsville, WV. She is also survived by 27 grandchildren and many great grand children, also two sisters of Osh Kosh, Wisconsin.

Visitation will be from 6-8 pm Sunday, July 1, 2018 at Koontz Funeral Home in Hamlin, WV. Service will be at 11 a.m. Monday July 2, 2018 at the funeral home with burial at Harvey's Creek Cemetery.