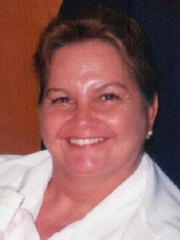 Joyce Marie Morgan, 63, of Arnoldsburg, WV went on to be with the Lord June 26th, 2018.

Joyce was born in Roane County, WV on April 5, 1955, the daughter of the late Walter (George) and Helen Williams.

Joyce is survived by her husband of 43 years, Jim Morgan, daughters Jennifer & Jennings McCumbers of Nicut, WV; Sarah and Scott Limer of Parkersburg, WV; and son James & Jen Morgan of Raleigh NC; grandchildren Braden (Little Bear) and Bentley McCumbers, Cameron & Jenna Limer, Caiden & Reagan Morgan and Hazel Spingola. She is also survived by her sisters Judy & Roger Scott, Statesville, NC and Janet Matheney of Spencer; and brothers Tiny Williams and Terry (Carol) Williams all of Spencer.

She is also survived by sisters-in-law, Karon Williams, Barbara (Jack) Goodman, and Ruth Wilson, brother-in-law John (Wanda) Morgan and several nieces and nephews.

In addition to her parents, she was preceded in death by an infant sister Carolyn, brother Larry Williams, sister-in-law Helen Scarpellini, brother in law Ronnie Morgan, brother in law Delmar Matheney, and sister in law Linda Williams.

Joyce started her career in the healthcare field as a teenager working as a Candy Striper at Roane General Hospital. She went on to complete her Licensed Practical Nursing degree where she continued to work at Roane General. She furthered her education and completed her Registered Nursing degree including a Bachelors degree in Nursing. Joyce's nursing career consisted of working in a variety of settings including the Calhoun County Health Department Nurse, Director of Nursing at Roane General and retired from her nursing career as the Calhoun County School nurse.

Visitation will be held at Stump Funeral Home & Cremation in Arnoldsburg on Saturday June 30th from 6 to 8pm. Funeral services will be Sunday at 2pm with Rev. Alfred Hickman and Pastor Chris Stout. Graveside services will be conducted by Rev. Loren Price. Interment will be in the Gibson cemetery near the family farm on the lower Westfork in Calhoun County.

Joyce treasured her time with her family and especially her precious grandchildren. Most important was her faith in Jesus Christ. Her children could count on her advice of going to church and to say their prayers.