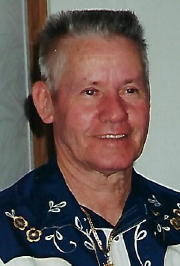 Jesse Asa Keith age 89 of Stouts Mills, WV departed this life in the early morning hours of Sunday, June 24, 2018 at the Stonewall Jackson Memorial Hospital in Weston, WV following an extended illness. Born March 6, 1929 in Gilmer County, Asa is the son of the late Opha Lee and Kate Campbell Keith.

Asa is a United States Army Veteran, having served during the Korean Conflict. During his time in the military, he was awarded a Bronze Star and a Purple Heart for his service to his country. He worked as a coal miner, pipliner, and was a Union Laborer for Laborers International Union. Asa also owned and operated Keith's Store in Stouts Mills for several years.

Asa is a Baptist by faith and a member of the Sand Fork Baptist Church. In his spare time, he enjoyed Square Dancing at the local Folk Festival and all over the rest of West Virginia, hunting rabbits, traveling, gardening, and spending time spoiling his grandchildren, great-grandchildren and great-great grandson.

On June 2, 2003 Asa was united in marriage to Carolynn Wade Hoover Keith, who survives at the Stouts Mills home.

Surviving is his daughter, Crystal King (Peter) of Oshawha, Canada, 3 grandchildren, Lurenda Allison (Malcolm) and Lewesla Linden (Lance) both of Stouts Mills, and Stephen Carter of Belton, Texas, and 3 step-daughters Patricia Banus (Thomas) North Ridgeville, OH; Connie Fishburn of Columbia Station, OH; and Sandra Goonan of Lebannon, TN; and 8 step-grandchildren, Elisha Rodriguez of Birmingham, AL; Alex Rodrigues of North Ridgeville, OH; Richard Fishburn of Strongsville, OH; Mark Fishburn of Columbia Station, OH; Timothy Goonan (Rachael) of Nashville, TN; Samantha Newson (Jay) of Murphysboro, TN; Mariah Goonan of Henderson, TN; and Caleb Goonan of Murphysboro, TN.

Also surviving are 17 great-grandchildren, Lasa Bree Rinehart (Brett) of Sand Fork, Preston, Caronnie, Gunner , and Grasen Allison of Stouts Mills, Montaiginey, Jlancey, Malachi, Lamikkel, and Bradford Linden also of Stouts Mills, Eli Carter and Braelynn Carter of Belton, TX; Alexis, Madison, and Brook Fishburn of Strongsville, OH; Johanton Newson of Murphysboro, TN; Waylon Goonan of Hendersonville, TN; 1 great-grandchild on the way and 1 great-great grandchild, Liam Rinehart of Sand Fork.

Along with his parents, Asa was preceded in death by his daughter, Josie "Kay" McClain, his first wife, Laura Belle Rogers Keith, 12 siblings, Eula Mae Parker, Opha Lee Keith Jr, Goldie Marie Frashure, Helen Irene Greener, Marie Grace Rogers, Lena Keith, Ruby Keith, Orville Keith, Hoy Keith, and Lawrence Keith, and 1 great-grandson.

A funeral service will be conducted at the Sand Fork Baptist Church in Sand Fork, WV; at 2:00 p.m. Friday, June 29, 2018 with Pastor Brett Rinehart and Pastor Lance Linden officiating. Burial will follow in the Sand Fork Cemetery in Sand Fork with full Military honors provided by the United States Army and the Lewis County Honor Guard. Friends will be received from 5-8 p.m. Thursday evening at the Sand Fork Baptist Church.

Ellyson Mortuary, Inc is honored to assist the family of Jesse Asa Keith with arrangements.