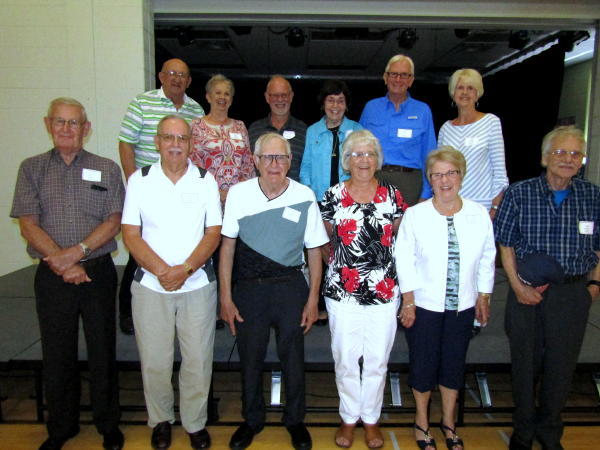 CLASS OF 1958 (Front L-R) David Edsel Arnold, Joseph Larry
Francis, Ernest Blair Stone, Jr., Roberta Offutt Wilson,
Dottie Rose Radabaugh, Ronzil Lynch (Back-L to R) Ralph E.
Murphy, Mary Jarvis Parsons, Jackie Betts, Betty Yoak McVaney,
Jack Barnes, JoAnn Propst Stevens (Not shown Oren Ward and Bob Weaver)
By Bob Weaver 2018
I looked them over pretty good.
It had been 60 years since we graduated from Calhoun County High School, the Class of 1958.
Most of them looked much older than me.
About 18 of a class of 80 students returned to the alumni event held this year in Arnoldsburg.
Thirty had passed to the great beyond, death hitting the first batch a few years after graduation, then a considerable number taken at about age 50 with heart trouble and cancer, with the rest of us just going on to die of old age.
During the brief time together this weekend, I was overtaken with gratitude with having known them, nearly all of them going into the big world and becoming successes in their own right, or as old-timers would say, "Making something of themselves."
They were believers and workers.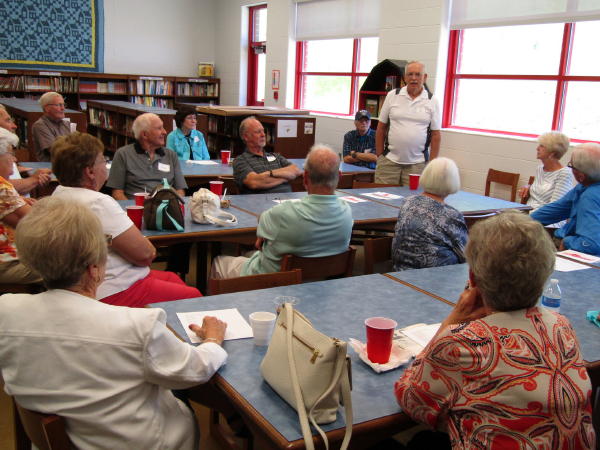 Class of '58 met for mini-reunion at Arnoldsburg School
I contend that the 1950s was the best time to come of age, a post World War II era that was booming, lots of jobs, opportunities and patriotism. In many ways it was the last of innocence in American culture, bound to family values and faith in the future.
A few are still people of place, holding to each other and the hollers or hills in which we were born, a time before the culture had to entertain itself to death.
Since the 60s, mostly out of necessity, graduates of Calhoun High go into the big world, rarely returning with a few looking back. Few, like my generation, clinging to their roots, family and place.
The reunion was a time to recall the deceased, including some of my best friends. I've tried to honor them over the years, writing about them. Looking back, I have a place in my heart for all 80 of them.
My hope for the current generation is to savor school days life, take time for each other, be kind and generous, for the time will come when by aging you too could savor the memories.
See   CHS CLASS OF 1958 - Still Connected After All These Years