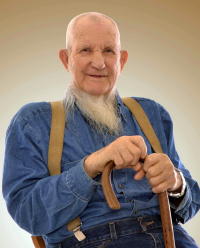 Denver Nicholas was born November 18, 1928 on Bear Run Road Orma, WV to the late Simon & Emma Nicholas. He was delivered by his grandmother Eda Jane Cottrell. He departed this life on June 21, 2018 surrounded by his loving family.

His mother taught him to read from the Bible and he learned arithmetic from working timber. He stopped attending school in the 4th grade to help his dad build a home and work on their farm when he was ill. He received his education through the years as his children attended school. He loved singing amazing grace.

He spent 18 years working in the oilfield for Gerald Jones and the Stonestreet Family. He loved working the oil rigs and would tell stories from that time. He made a living doing timber work. He loved farming. He could work a pair of horses like no one else. He was a role model to many children who called him dad or grandpa.

His true passion was his faith in God and was a member of the Ebeneezer Baptist Church and his family who are his true legacy. He is survived by his sons and daughters in law: David & Sharon Nicholas of Orma, WV; Dale & Mary Nicholas of Woodstock, Alabama; and Patrick & Beth Nicholas of Arnoldsburg, WV; his daughters and sons in law: Robin & Luke Mccumbers; Emma & Jerry Howell; Melissa & Tracy West all of Orma, WV and sons in law Howard Carpenter and Bobby Stout.

He is survived by the following grandchildren: Allen & Michele Nicholas, Dean & Jennie Nicholas, Travis & Twila Nicholas, Sean & Christopher Carpenter, Patricia & Robert Wagner, Jordan & Brittany Delaney, Kirstie, Denver & Timothy Nicholas, Lucas & Natasha McCumbers, Carol & Tim Short, and Dalton Nicholas.

He is survived by the following great grandchildren: Justin, Evan & Mason Nicholas; Jarrett & Alex Nicholas; Abby, Anna, Haley & Kaley Nicholas; Ashley Sampson & Brooke Carpenter and their mom Marla King Carpenter; Logan & Savanna Carpenter, Zachary Stout, Victoria & Paige West, Lillian & Zander Mccumbers.

He is survived by step grandson Zach West and step great granddaughter Chevelle West.

He is survived by his sister Ermal Jean & Hoyt Rogers of Ballground, Ga. He has many nieces, nephews and cousins.

In addition to his parents he was preceded in death by his siblings Marie Taylor, Ernest Nicholas, Macel Monroe, Murl Nash, Maxine Wilson and infant sister Delma Nicholas; his first wife Nita June Nicholas and his second wife Missouria Kay Nicholas and daughters Wanda Carpenter and Joyce Stout and several nieces and nephews.

Funeral services will be at 1 p.m. Thursday (6-28) at the Ebenezer Baptist on Nicut, Orma, with burial in family cemetery.

Friends call call Wednesday evening at the John H. Taylor Funeral Home in Spencer from 6-8 p.m.