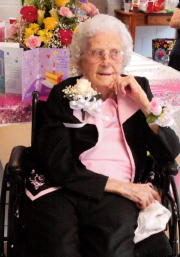 Ruby M. Coe, 101, of Walton, West Virginia died Saturday, June 16, 2018 at the Roane General Hospital, Spencer, West Virginia.

Ruby was born August 19, 1916 in Walton a daughter of the late George L. and Eulah Noel Harper.

She was a wonderful mother, grandmother and friend. She worked at Carper's Restaurant and Kellwood and retired from the Spencer State Hospital. She was Christian by faith and loved to cook, garden, crochet and help others.

She is survived by a son, Billy (Denise) Coe; daughters, Bonnie Whited Hester, Barbara (Ronald) Huffman, and Kay (Jim) Simmons; seven grandchildren; eleven great-grandchildren; and ten great-great-grandchildren.

In addition to her parents, she was preceded in death by her husband, Ernest D. Coe; a son, Charles "Wink" Coe; a daughter, Phyllis Gail Harris; granddaughter, Susan Harris; sons-in-law, Billy Whited and Levi Hester; sisters, Mabel Jackson, Minnie Payne, Camma Armstead, Artie Alma Harper, Orpha Susan Harper, Wanda Lee Harper, Myrl Armstead Rhodes, Mary Beatrice Coleman, and Freda Schoolcraft; and brothers, Fred Ray Harper and Blaine Harper.

Ruby's service will be at 11:00 a.m. Tuesday, June 19, 2018 at the TAYLOR-VANDALE FUNERAL HOME, Spencer, with her grandson, Rev. Justin Simmons officiating. Burial will be in the Clover Cemetery. Visiting hours are from 5:00 to 7:00 p.m. Monday at the funeral home.