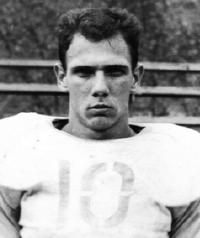 Harry Vannoy, Calhoun High School "Gold Dust Twin" in 1956
Harry L. Vannoy, 80, went to be with his Lord on June 4, 2018.
Harry was a teacher and football coach for over 40 years before retiring from Parkersburg High School in West Virginia, but he stayed active as a Sunday school teacher and deacon of Olivet Baptist Church.
Harry was preceded in death by his parents, Kester and Juanita Mace Vannoy. He was born at Millstone, graduating from Calhoun High School in 1957, and graduating from Glenville State College.
He is survived by his wife of 23 years, Marlene S. Vannoy.
A funeral service will be held 2 p.m. Thursday, June 7th at Vincent Funeral Home, 417 11th St., West Point and interment will follow in Olivet Baptist Church Cemetery.
The family will receive friends 6 to 8 p.m. Wednesday, also at the funeral home.
Memorial contributions can be made to Olivet Baptist Church Cemetery Fund, 25375 The Trail, Mattaponi, VA 23110.