A Memorial Service will be held for Mary Umstead at Mt. Zion Methodist Church on July 28 at 4:00 PM.

All are invited to honor her as long time resident of Mt. Zion and wonderful lady.

Come for one last visit and perhaps bring a memory to share with her family and each other.

Thank you so much. Viki Stevenson.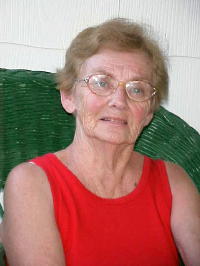 Mary Marie West Umstead, 89, died May 19, 2018 at the home of her daughter in Johnson City, TN.
She is preceded in death by her parents, Willie and Iva West of Spencer, WV, her husband Robert Umstead and her son Robert Umstead II.
She is survived by her sister Helen Young of Ravenswood, WV; her daughter Victoria Stevenson of Johnson City, TN and son John (Randy) Umstead of Pullman, WV; granddaughters Anne Wydler of McLean, VA, Maggie Bailey of Westminster, CO, Whitney Jones of Elizabethton, TN, Lydia Umstead-Fluharty of Pullman, WV, and grandson Clifton Umstead of Center Moriches, Long Island, NY. She was also proud great grandmother of 13.
Before Mary moved to TN in 2015 she was a member of Mt. Zion Methodist church where she had been the pianist for over 60 years, providing the community with lovely music, beautiful flowers, and many warm hugs. Through DHS she also provided many miles of transportation to people needing rides to doctors' appointments in Parkersburg, Charleston, Morgantown, and elsewhere.
Mary was well known for her colorful put-together style, her hard work maintaining her yard, her apple dumplings, her love of wing-dings at the Y restaurant in Arnoldsburg, WV, her love of nature, and her long walks through the woods gathering treasures for her artistic creations.
A small family viewing was held at Morris-Baker Funeral Home in Johnson City, TN. A memorial service and interment will be held at Mt. Zion Methodist Church near Grantsville, WV at a yet to be determined date.