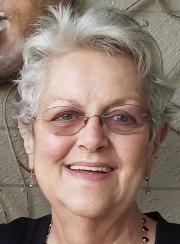 Kristine "Tina" Saunders Brinson was born in Southern Maryland on Memorial Day in 1949. Her family lived in the center of Cobb Island, which she always said was the best place in the world to grow up.

Tina had fond memories of crabbing along the water with her Aunt Cassie, getting sliced ham sandwiches from her grandmother Mary who ran a small store, playing baseball in her uncle Theodore's yard across the street, and exploring the marsh looking for frogs and snakes and otherwise finding trouble with her best friend Barbara.

Tina met John on Christmas day in 1970 and they married the following summer. They shared 45 years together and were soul mates without a doubt.

Tina is survived by her daughter Dana Brinson and her wife Kris Snyder; daughter Jessie Brinson; son, David Brinson and his wife Dani Brinson; son, Kerry Fishel and his wife, Corey Koch-Fishel; and her grandchildren, Zachary and Abigail Brinson; and John-Emery and Josie Fishel, and her constant companions Opie and Jack.

Something of a thrill seeker, Tina jumped off the Cobb Island bridge as a kid, raced straight track as a teen, became a licensed pilot in her 20s, rode motorcycles throughout her life, and always found her way outside during a hurricane, just because she wanted to check things out. These nerves of steel made her good in a crisis, a skill that served her well as a paramedic. She worked at Calhoun County EMS in West Virginia and was a third-generation fire department/EMS member.

Tina was an accomplished quilter and graced many of her loved ones with her creations. She was a master gardener and enjoyed canning and preserving the food she and John grew. Tina loved to laugh, and spend time with friends and family, hosting big holiday parties or just enjoying sitting on the front porch and chatting. She always had furry companions and adopted strays in need of a home--both pets and people. She was happiest when her home was filled to the brim with family, friends and pets.

Tina left us on April 4th, 2018, surrounded by loved ones, to join John, her parents Marie and Jim and her brother Jack. She is dearly missed.

A memorial service will be held on Saturday June 9th at Stump Funeral Home in Arnoldsburg, WV. Visitation at 12 noon, memorial service and story-telling beginning at 1 p.m. The memorial will be a celebration of the vibrant, funny, irreverent, and generous woman Tina Brinson was!

In lieu of flowers, please donate to the ASPCA or local humane society in honor of Tina's lifelong commitment to rescuing her four-legged friends.