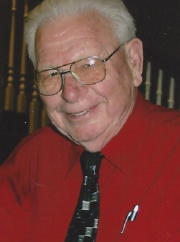 David Richard Chenoweth, 89 years of age, passed away on Sunday May 20, 2018 at UH-Portage Medical Center in Ravenna, Ohio.

Mr. Chenoweth was God's Gift to Us on March 1, 1929 in Nicut, West Virginia, the son of the late Denver and Faye (Lamb) Chenoweth.

Raised on the family farm in West Virginia, he was a 1947 graduate of Calhoun County High School. A resident of the Shalersville area for over 50 years, he had been employed in supervision at Samuel Moore & Co-Eaton retiring after 39 years of service.

The Chennoweth family among Calhoun's earlycomers, farmers, merchants and community leaders.

Mr. Chenoweth was a U.S. Air Force veteran of the Korean Conflict. He was a faithful member of Bethel Baptist Church in Ravenna. In his early years he developed a love for horses, raising horses and farming on the family farm which remains a part of the Chenoweth family today. Often he and his father would compete in horse pulling contests together. Family was truly important to Mr. Chenoweth his entire life, and those who mourn his passing will forever have the memories that he created for them of love of family to carry on in the years that will follow.

On January 3, 1954, he married his beloved wife Emma Lou (Stalnaker) Chenoweth who survives at their home. Also surviving are his devoted children Louetta (Roger) Mayle and Kenneth (Melissa) Chenoweth both of Shalersville; his dear siblings Denver (Mildred) Chenoweth of Florida, James Chenoweth and Kathryn (Calo) Arnold both of Arizona, Helen Hathaway of Akron, Ohio, Sharon (Dan) Smith of Ravenna; his half-siblings Roger (Shirley) Chenoweth of West Virginia and Sue McKown of Cleveland, Oh. His loving grandchildren David (Kelly) Mayle, Travis (Debbie) Mayle, Brittany (Adam) Dye and Joshua Chenoweth and 9 great-grandchildren. He was preceded in death by his brother Carl Chenoweth, infant son Roger Dale Chenoweth and by his grandson Justin Chenoweth.

Calling hours will be Thursday from 6:00-8:00 p.m. at the Green Family Funeral Home & Crematory Service, 4668 Pioneer Trail at the corner of St. Rt. 44, Mantua, Ohio 44255, where Mr. Chenoweth's funeral service was held Friday May 25, at the Green Family Funeral Home & Crematory Service in Mantua, Ohio, with military honors provided by the U.S. Air Force, with Pastor David Ballert, and Pastor Kevin Stansberry, officiating. Final resting place is at Riverside Cemetery in Shalersville.