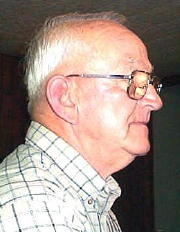 Ronald Lee Hosey, age 81 of Grantsville, WV departed this life suddenly on the evening of Monday, May 7, 2018 at his residence in Grantsville.

Born November 20, 1936 in Calhoun County, Ronald is the son of the late Parker and India Goodnight Hosey.

Ronald worked as a Bailing/Service Rig operator for Dominion Energy with 22 years experience. In his spare time he enjoyed hunting, fishing, and spending as much time as possible outdoors. Ronald was a Baptist by faith and Deacon of the Bethlehem Baptist Church, where he held membership for 25 years.

On December 27, 1958 Ronald was united in marriage to Carole Kelley Hosey who survives at their Grantsville home.

Surviving is 1 son, Steve Hosey of Grantsville, 3 grandchildren, Kyleigh Hosey, Kinley Hosey, and Keyton Garrett all of Grantsville, and 1 great-grandson, Grayden Detweiler also of Grantsville.

Along with his parents, Ronald is preceded in death by 5 siblings, Irene, John, Joseph, and Albert Hosey, and Kathryn Ullum.

The family will have a memorial service at the Bethlehem Baptist Church, 3616 North Kanawha Hwy, Grantsville, WV 26147 at 2:00 PM; Saturday May 19, 2018 with Pastor Barry Miller and Pastor Gene Johnson officiating.

Ellyson Mortuary, Inc is honored to assist the family of Ronald Lee Hosey with arrangements.