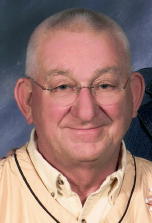 Kenneth Lee "Kenny" Nichols, 72, of Spencer, West Virginia died May 6, 2018 at Charleston Area Medical Center's Memorial Division after an extended illness.

Kenny was born May 9, 1945 to the late Jarrett and Jane Straight Nichols. He retired from Monarch Rubber Company, Spencer, with 31 years of service of which the last 11 years were as plant manager. He later worked for the West Virginia Housing Authority and Wally Board and at Willard C. Starcher, Inc.

He was a member of St. Johns United Methodist Church, enjoyed sports, coaching the kids and as a referee and enjoyed cars, mowing and keeping things neat.

Kenny is survived by his wife of 55 years, Carolyn Phillips Nichols; two daughters, Shannon Nichols Reynolds of Canal Winchester, Ohio and Summer Nichols (Sam Whiting) of Reedy, West Virginia; one son, Bill Nichols of Spencer; one brother, Pete Nichols and his wife, Sue of Clover, West Virginia; seven grandchildren, Kehly, Brooke, Lexi, Gavin, Braylah, Jordynn and Westynn; three great-grandchildren; and a host of nieces and nephews.

In addition to his parents, he was preceded in death by one sister, Alice Matics; and three brothers, W.D. "Dexter", Jerry and David Nichols.

Per his wishes, there will be no service or visitation. The body was cremated. TAYLOR-VANDALE FUNERAL HOME, Spencer, is honored to work with the Nichols family.