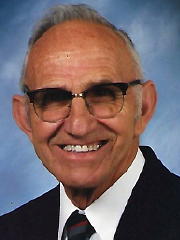 Charles E. Harold, age 91, a long-time resident of Glenville, West Virginia, died on Thursday, May 3, 2018, at Cedar Grove Senior Assisted Living in Parkersburg, West Virginia.

Born May 18, 1926 in Roane County, West Virginia, he was the son of the late Kelley S. Harold, Sr. and Ethel G. Keen Harold.

He was a 1944 graduate of Spencer High School, and immediately upon graduation became a member of the United States Army. After World War II, he returned to Roane County, and began employment at Hardman Supply Company in Spencer, where he met his future wife, Martha West Harold. They were married on September 2, 1954, and resided in Glenville, as he had become manager of Glenville Supply (later named Hardman's). He retired in 1989, after working for Hardman's for over 43 years. Martha died on September 3, 2016, the day following their 62nd wedding anniversary.

Charles and Martha were active in Trinity United Methodist Church and several civic organizations in Gilmer County. He was a PTA officer when his children were younger, treasurer of the Gilmer County Board of Health for several years, and an election worker. Charles was an accomplished carpenter/handyman and enjoyed building projects. He was an avid sports fan, particularly enjoying basketball. Between 1953 and 2007, he missed fewer than five home basketball games at Glenville State College, and only missed because his job required him to be out of town. In later years, he was active in the Gilmer County Senior Citizens.

Charles is survived by his daughter, Anita Harold Ashley, and her husband, Bob, of Spencer, and his son, Steve Harold, and his wife, Renee, of Parkersburg. Also surviving are four grandchildren, Ben Ashley and his wife, Suzette, of Charleston, Sam Ashley and his fiancee, Jill Lansden, of Huntington, Katie Knight and her husband, Jordan, of Ripley, and Allie Harold, a student at WVU in Morgantown. Charles is also survived by a sister, Betty Jean Tenney of Perry, Ohio.

In addition to his parents and his wife, Charles was preceded in death by his brothers, Kelley S. Harold, Jr., James R. Harold, and Paul Dean Harold, Sr., and his sisters, Edith Vineyard Jarvis and Mildred Ann Harold.

Funeral services will be conducted at the Ellyson Mortuary, Inc., 2 Vanhorn Drive, Glenville, West Virginia, at 1:00 p.m. on Sunday, May 6, 2018, with Pastor Bryan Groves officiating.

Burial will be in the Harold Cemetery at Newton, West Virginia, in Roane County. Friends will be received from 5:00 - 8:00 p.m. on Saturday, May 5, 2018, at the funeral home in Glenville.

In lieu of flowers, the family has requested memorial contributions to the Harold Cemetery, c/o Dee Truman, 253 Uler Road, Newton, West Virginia 25266; the activities program at Cedar Grove Senior Assisted Living, 110 Nicollete Road, Parkersburg, West Virginia 26104, or a charity of your choice.

Ellyson Mortuary, Inc. is assisting the family of Charles E. Harold with arrangements.