By Bob Weaver

June 14, 2021 - The Rainbow Hotel, Grantsville's long time eye sore, health and safety hazards will finally be demolished and removed.

Citizen activists, several mayors and town councils have made efforts for nearly 20 years to remove the old structure at the corner of Mill and Court Street.

Asbestos has been blowing out the windows for years, and portions of the building have been falling into the streets and against houses.

The town has been awarded a Community Block Development Grant for $200,000, according to Office Manager Pam Davis.

Davis said the owner of the building is cooperating with the project and the bidding is expected to be approved within months.

"It is finally happening," Davis concluded.

DEBRIS CONTINUES TO FALL FROM GRANTSVILLE'S DILAPIDATED RAINBOW HOTEL - "I'm Afraid For Our Lives," Mayor Says National Guard Effort On Back Burner

5/7/2020 - Residents near the dilapidated Rainbow Hotel continue to sound concerns regarding the longtime safety and health hazards, with dirt and debris often blowing or falling from the structure onto their residence.

Mayor Ron Blankenship said this week, "The WV National Guard has balked about tearing the hotel down when they learned the town did not own the property. I have told them the town could probably buy the property if necessary, but no response thus far."

In May, 2019, Mayor Blankenship said he had negotiated an agreement with the owner of the Rainbow Hotel allowing for the demolition of the old building. In addition, the WV Army National Guard has agreed to demolish the structure, however, was not able to provide a specific date for the demolition.

The Rainbow Hotel problem has gone through several mayors and councils for over 15 years. It was not clear if the old hotel has been declared a public health and safety hazard.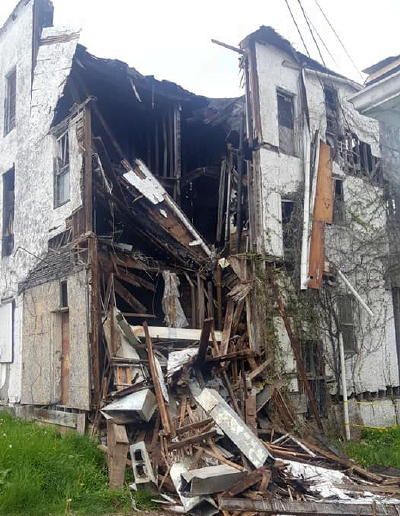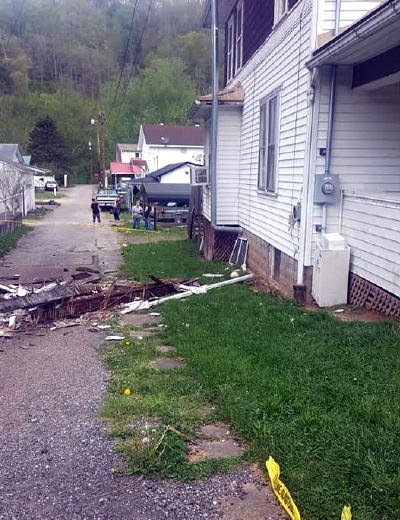 5/4/2018 - Large chunks of debris fell from the dilapidated Rainbow Hotel again Friday afternoon.
The debris fell within inches of an adjacent Mill Street residence, the second time in about a year, some of the debris struck the house.
Natasha Phillips was sitting on her porch when the debris fell, some of it also striking her residence.
Town officials had just cordoned off Mill Street again for safety concerns regarding the structure, which is continuing to fall apart.
Another house on Hardman Street, within feet of the hotel, is occupied by Matthew and Cathy Rios, who have lived there four years.
Cathy Rios said, "A wind come up and we heard a noise and we opened the front door, with asbestos and trash striking our face."
"I'm afraid for our lives," she said, indicating they will not sleep well because a number of pieces of the hotel are dangling."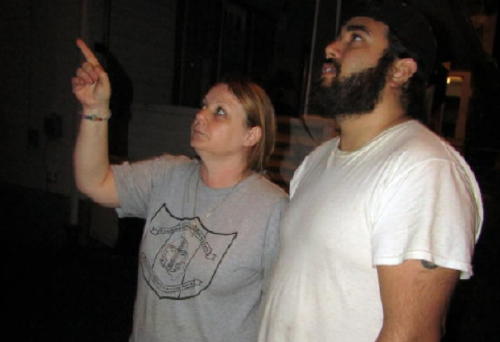 Rios family, looking at debris, says they will not likely sleep tonight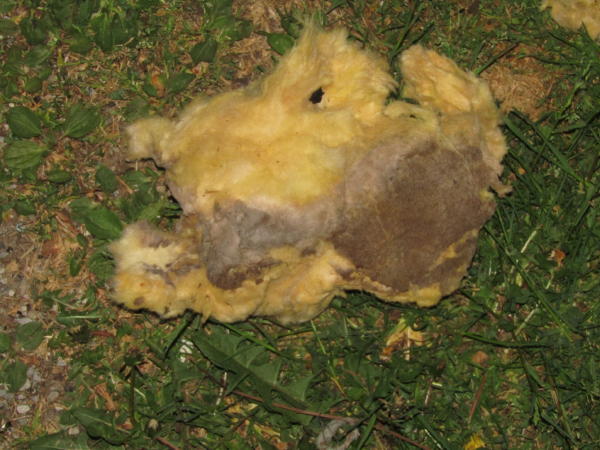 Fiberglass from building scattered down Hardman Street, with asbestos reported to be in structure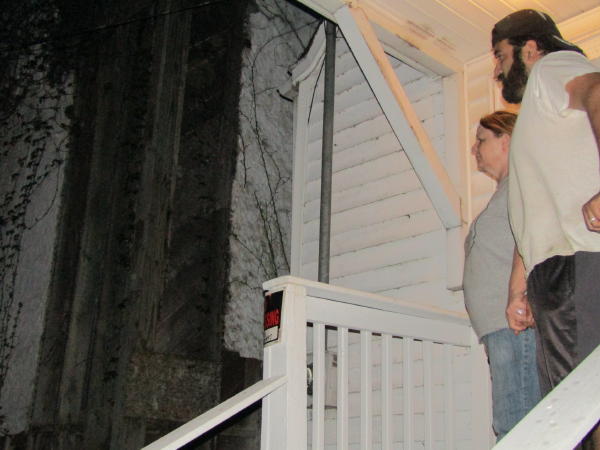 Rios family on their front porch, hotel is a few feet to the left
Matthew Rios said he cannot believe that something has not been done about the structure, saying its a safety, health, environmental and fire hazard. Rios said he and others met with Mayor Ron Blankenship Friday.
Blankenship said earlier this week that he was cautiously optimistic that funds can be obtained to raze the structure.
Cathy Rios said she lives in fear that a portion of the hotel will collapse and injure or kill neighborhood children or adults.
The building has been abandoned for about 20 years.
GRANTSVILLE BLOCKS RAINBOW HOTEL STREET AGAIN - Safety Concerns Expressed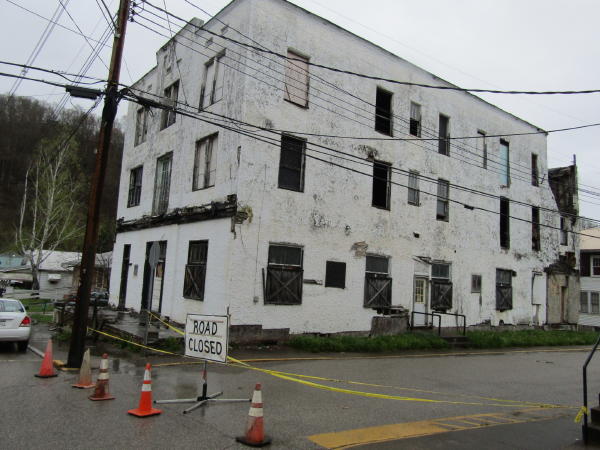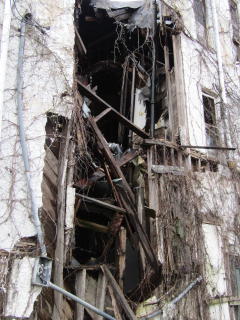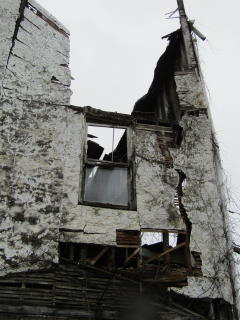 5/1/2018 - The town of Grantsville has again blocked Mill Street over safety concerns of the dilapidated Rainbow Hotel.
Grantsville Mayor Ron Blankenship said recent heavy winds had increased safety concerns.
Blankenship said he is "a little more optimistic" about getting funds to raze the structure, which has blighted the town for 20 years.
"We're currently working with the Mid-Ohio Valley Regional Council, who are pursuing state and federal funds for the demolition," he said.
Blankenship said all options are on the table to raze the structure, after numerous town officials have failed.
See More LORD LOVE A DUCK - Hazardous Rainbow Hotel Finally Collapsing?