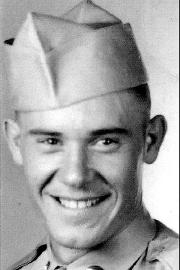 BRISTOLVILLE — Harold Keith Gibson, 84, of Bristolville, passed away Monday, April 16, 2018 at St. Joseph Warren Hospital.

He was born May 5, 1933, in Cremo, W.Va., a son of the late Cliff and Elah Kerby Gibson.

On Jan. 28, 1953, Harold married the love of his life, Gwendolyn Mae Greathouse.

Harold proudly served our nation with the United States Army during the Korean War. He worked as an electrician on the blast furnaces at Republic Steel. In the 1960's, Harold raced stock cars. He loved working on cars, and was a Mopar fan to the bone. Traveling with his family was one of his passions.

Left to cherish his memory is his wife of 65 years, Gwen Gibson of Bristolville; daughters, Arlene "Kay" Sloan and Joyce (Ray) Sponseller, both of Bristolville, and Debra (Mark) Barta of Leavittsburg; sons, Richard (Shelly) Gibson of Bristolville, Eric (Michelle) Gibson of New Braunfels, Texas, and Clint Gibson of Bristolville; brothers, Duane Gibson of Warren and Larry Gibson of Myrytle Beach; as well as 23 grandchildren; and 38 great-grandchildren.

He was preceded in death by his parents; sisters, Bonnie Facemire and Patty Nevin; and a brother, Gerald Gibson.

Services will be 1 p.m. Saturday, April 21, 2018, at Champion Baptist Church, where Pastor Keith Easton will officiate. Friends may call 11 a.m. to 1 p.m. Saturday at the church. Interment will be in Sager Memorial Park in Bristolville.

Arrangements were handled by Carl W. Hall Funeral Home.