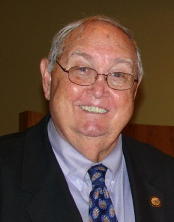 Sonny Lynne Crowder, 75, of Walton, died Saturday, April 14, 2018 at the Miletree Genesis Center, Spencer, after an extended illness.

He was born July 12, 1942 at Elkview, a son of the late James Sylvester and Opal Cathern James Crowder.

Sonny was a retired field representative for the West Virginia State Auditor's Office. He was a former teacher at the Gandeeville Elementary School and the Walton High School. Sonny was a charter member of the Walton Volunteer Fire Department and a member of the Walton Lodge No. 150, A.F. & A.M., Walton.

Survivors include his brother, James L. Crowder also of Walton.

A Masonic Graveside Service will be held at 3:30 p.m. Tuesday, April 17 at the Eventide Cemetery, Spencer. There will be no visitation.

Memorial donations are preferred to the Walton VFD, P.O. Box 43, Walton, WV 25286.

Condolences may be shared at www.taylorfuneralhomeinc.com

John H. Taylor Funeral Home, Spencer, is assisting with arrangements.