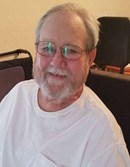 Harold Lynn Deel, 73, of Asheville, NC passed away Monday, March 26, 2018 at the North Carolina State Veterans Home. He is survived by his wife of 45 years, Mae Marie Deel.

Mr. Deel was born in Charleston, West Virginia on August 27, 1944 to Anna Mae and Homer H. Deel. He is a graduate of Calhoun County High School in Grantsville, WV, and proudly served in the United States Army during the Vietnam era. Harold was a self-employed business owner and a dedicated member of Groce United Methodist Church.

Harold is also survived by his three children; H. Lynn Deel Jr., Stephanie D. White, and Jonathan A. Deel; two sisters, Shirley Murphy and Barbara Reed; and five grandchildren, Shai White, Gage White, Hayes Deel, Lily Deel and Enzo Deel.

A ceremony will be held at 12 pm, April 13, 2018 at the North Carolina Veterans Cemetery in Black Mountain, to be followed at 2:30 pm by a memorial service at Groce United Methodist Church in Asheville.