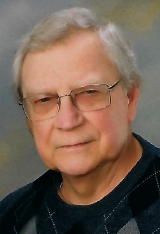 Mr. Clinton E. Foster of Warren, Ohio, formerly of Ronceverte, W.Va., passed away on Saturday, March 31, 2018, after a brief illness. Mr. Foster was born in Hinton, on February 6, 1930, to Cecil E. and Nina W. Foster. He attended high school at Nitro High School, where he graduated as Valedictorian of the class of 1948.

Clinton married his high school sweetheart, Joan Hudnall, on August 25, 1951, at St. Paul's Methodist Church in Nitro. Their marriage continued until Mrs. Foster's death on August 10, 2016.

Following high school, Clinton attended Marshall College (now University) where he earned a Bachelor's degree in Music and a Master's degree in Music Education in 1955. That same year he obtained his first teaching position in Parkersburg and then became Band Director at Calhoun County High School, Grantsville. In August, 1960, the Fosters moved to Warren, where Clinton became Assistant Band Director at Warren G. Harding High School. Clinton was at Harding until a second high school, Warren Western Reserve, was opened in 1966, where he served as Band Director. All four of his children graduated from Warren Western Reserve and were very active in the music program. Clinton eventually became the Supervisor of Music for the Warren City School System. He retired from teaching in 1985.

In 2001, Clinton was the very fortunate recipient of a successful kidney transplant from his daughter, Stacey, and he enjoyed 17 years of good health as a result of this gift of life.

Clinton very much enjoyed classical music, golf, bridge, camping, model railroading and spending time with his family. He relished continued contact with many of his former students from both high schools.

Clinton Foster is survived by his children, Leslie C. Foster (Candy), Warren, Gregory A. Foster, Warren, Jeffrey L. Foster (Caroll), San Antonio, Texas, and Stacey F. Luther (Gregory) of Raleigh, N.C. He is also survived by his brothers, Melvin P. Foster, Staunton, Va., and Charles E. Foster (Dorinda), Dunbar; sister, Mrs. Janice F. Milam (Franklin), Lewisburg; sister-in-law, Donna W. Foster, Charleston; brother-in-law, John H. Hudnall (Kim), Merced, Calif.; grandchildren, Katey E. Foster (Adam Lucchesi), Stamford, Conn., Calvin K. Foster, Detroit, Mich., Madeleine J. Foster, Eau Claire, Wis., Carter E. Foster, San Antonio, Texas; and great-grandson, Parker J. Koehn, Eau Claire, were highlights of his life. He also enjoyed an extended family of granddaughters, Heather (Steve) Gray, Melissa (C.J.) Fisher, and great - grandchildren, Lylah, Leah and Conner. Clinton is also survived by many beloved nieces and nephews, and great-nieces and great-nephews, and he will be greatly missed by members of his family.

He was preceded in death by his brother, Gerald A. Foster; sisters-in-law, Ida Foster and Scheryl Foster; and niece, Lisa Whitescarver.

Both Mr. and Mrs. Foster chose to donate their remains to the Human Gift Registry Program.

Calling hours will take place from 6 to 8 p.m. on Wednesday, April 11, at McFarland-Barbee Family Funeral Home, located at 271 North Park Avenue, Warren, Ohio 44481.

Calling hours in Lewisburg will take place from 11 a.m. to 1 p.m. on Saturday, May 5, at the Activities Hall in the Educational Building of Old Stone Presbyterian Church, 644 Church Street.