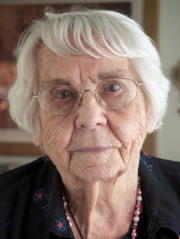 Beatrice Lenora (Divers) Nicholas died at age 97 on Palm Sunday, March 25, 2018.

She was born on May 6, 1920, in Calhoun County, West Virginia, the daughter of Kester Divers and Carrie (Hickman) Divers. Lenora married Hall O. Nicholas on April 15, 1945, and they enjoyed 37 years of marriage until his passing in 1982.

Lenora lived in Calhoun County most of her life and was a devoted member of the First Baptist Church of Grantsville for 52 years, serving in many volunteer capacities, including as deaconess. She was known for her cooking and baking skills, serving many at her table, church, and in her community. She "neighbored" actively and with love, taking great joy in generously caring for others.

In 2003, Lenora moved to Morgantown to be near her children. She dearly loved her many friends from Grantsville and developed precious new friendships that helped make her years in Morgantown happy ones.

Lenora will always be remembered as one who demonstrated great love and was cherished by family and friends.

Lenora was preceded in death by her parents; two brothers, James Willis and an infant brother; and two sisters, Marie and Hazel. She was also preceded in death by her beloved daughter-in-law JoAnn Nicholas.

Lenora is survived by her two children, Gary A. Nicholas and Myra Nicholas Lowe and husband Kenneth C. Martis, all of Morgantown; two grandchildren, Elizabeth Lowe Frederick and husband Bill Frederick, of Beverly, Massachusetts; and Jason B. Nicholas of Sydney, Australia; and one great-grandchild, Samuel Hall Frederick.

The family thanks the kind staff who cared for her at The Village at Heritage Point, Sundale Nursing Home, and Morgantown Hospice.

Family and friends will be received at Stump Funeral Home & Cremation, Inc., Grantsville, WV on Thursday, April 5, 2018 from 12:00pm until the funeral service celebrating her life at 2:00 pm with Chaplain Craig Falkenstine officiating.

Internment with follow at Bethlehem Cemetery. Online condolences may be expressed at www.stumpfuneralhomes.com

In lieu of flowers, donations in her honor may be sent to Morgantown Area Meals on Wheels, Morgantown Hospice, or the First Baptist Church of Grantsville.