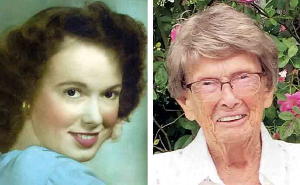 Colleen June Burdette, 89, of Vienna, went to be with her Lord, March 15, 2018 surrounded by loved ones at her home.
She was born in Grantsville, WV to the late, Ralph L. and Ida Mae (Whipkey) Nicholas June 23, 1928.
Colleen was a homemaker in the true sense of the word. She was the heart around which all of her family blossomed and grew. She excelled in her life goal of providing a happy home and of raising her children with a lifetime of loving memories. She instilled in her family a love for the Lord, walking with all her young children to church on Sunday mornings.
She ingrained in each a love for one another and the importance of family that, regardless of the miles between, remain close. She enjoyed our competitive game nights and typically won. Mom's love of nature was imparted through her love of being outdoors, traveling, her amazing flower gardens, bird watching, and never failing to point out the wonders of the landscape around us. She also passed along to her family her many talents and interests some of which include quilting, sewing, crafting, cooking, reading, her quick wit, but most importantly, her gift for bringing joy to those around her and leaving no doubt they were loved and treasured.
Colleen will be forever remembered and missed by those she leaves behind, one son, Robert L. (Jennifer) Burdette of Belleville, WV., and five daughters, Sharon C. (John) Blankenship of Vero Beach, FL, Candace E. (David) Twyman of Pickerington, OH, Jo Ellen (Roger) Riddle of Vienna, WV and Melody R. (George) Miller of Howell, MI and Lois A. (Garland) Roberts of Belleville, WV.
She also leaves behind grandchildren, great- grandchildren and one great- great- grandchild, Robert A. (Naomi) Burdette with Veronica and Jasper, Nathan P. (Margo) Burdette with Maxwell and Samuel, Stephanie L. (Kyle) Meyer with Kyis Zane, Jason E. (Shuri) Fisher with Tyler L. (Shelby) Turner, and Jordan A. (Devan) Memel with Mayci Faye, Ryan E. Fisher, Nicholas A. Twyman, Allison N. Twyman, Jessica C. (Michael) Towner with Elliza and Levi, Jackelyn D. (Jamie) Birchfield with Joeli, Josi, Jayci and Jayli Rose, Wesley W. Riddle, Rebecca A. (Travis) Butler with Blake and Lily, Hayley G. Miller and Carson B. Miller.
Colleen is also survived by siblings, Cleston Nicholas of Grantsville, WV, Phyllis Belt of Columbus, OH, Charles Nicholas of Harrisville, WV, Alta Mae Richards of Big Springs, WV, Sandra Richter of Freeport, WV and Phillip Nicholas of Parkersburg, WV.
In addition to her parents she was also preceded in death by her loving husband, Robert E. Burdette and one brother, Ralph Nicholas.
Funeral services will be held 1:00 P.M. Monday, March 19, 2018 at Lambert-Tatman Funeral Home, 3005 Grand Central Ave. Vienna, with Pastor Mike Towner officiating. Burial will follow in Mt. Olivet Cemetery, Parkersburg. Visitation will be held from 2:00-4:00 and 6:00-8:00 P.M., Sunday and one hour prior to services at the funeral home.
In lieu of flowers the family requests donations may be made to the Friendship Kitchen, 3109 Emerson Ave. Parkersburg, WV. 26104 or The Humane Society of Parkersburg, 530 29th. St Parkersburg, WV. 26101 in memory of Colleen.