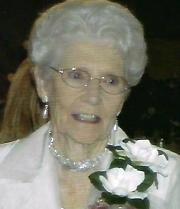 Boneva B. "Bea" Ellyson, age 89, of Edgewood Rd., Glenville, WV, formerly of Weston, WV, departed this earthly life on the evening of Wednesday, March 14, 2018 at her residence, where she wanted to be, following a brief illness, and surrounded by her loving family. Born March 25, 1928 in Baldwin, WV, (Gilmer County), Boneva is the daughter of the late Aubrey S. and Floda L. Baker Davis.

Bea was a 1947 graduate of Glenville High School and attended Glenville State College. She left college to move to Friendsville, MD with her husband where they taught school for one year. They moved to Wheeling for a short time before making Weston their home in the 1950's.

She was a member of the St. Matthew's United Methodist Church, Weston; Order of the Eastern Star, and Weston, Chapter 40. For many years she did tailoring at the Speciality Shop, Utah Tailoring, and Adler's in Weston. She later worked with her husband in his State Farm Insurance Office in Weston for many years before his retirement. After that, you could see her at her son's funeral home in Glenville, where she thought she ran the place.

In 2008 she moved back to Glenville to be near her great-grandchildren whom she loved dearly. Bea would pick them up daily from school and always made sure they had something to eat after homework was done. In her spare time, she enjoyed cooking, watching WVU football, spending time with her partner in crime, Kay Chico, and spoiling her children, grandchildren, and great- grandchildren whenever possible.

On July 1, 1949, she was united in marriage to Ralph C. Ellyson who preceded her in death May 2, 1994 after 44 years of marriage.

Bea is survived by 3 sons (who she would affectionately refer to the 3 hellions) Gary R. Ellyson and wife, Sandy of Pineville, WV; Terry L. Ellyson and wife, Denise of Glenville and Edwin P. "Eddie" Ellyson and wife, Beverly of Parkersburg, WV; grandchildren, Julie Chapman and husband, Duane of Glenville; Terry L. "Lee" Ellyson II and wife, Wakasa of Glenville; Joseph E. "Joey" Ellyson and companion Tina of Weston and Scott Ellyson of Denver, CO, and great-grandchildren, Jacob Chapman, Allie Ellyson and Jordan Ellyson. Her 4th great-grandchild, Jaxon Ty Ellyson is due any day.

Also surviving is her brother, Jack Davis and wife Janie of Martinsburg, WV; 3 nieces and 5 nephews.

Along her parents and husband, Boneva is preceded in death by one sister, Cathleen Schimmel.

A funeral service will be conducted at the Ellyson Mortuary, Inc., 2 Vanhorn Drive, Glenville at 11:00 a.m. Tuesday March 20, 2018 with Pastor Bryan Groves officiating. Burial will follow in the Stalnaker Cemetery in Glenville. Friends will be received from 4-8 p.m. Monday evening at the mortuary.

Terry is taking great pride and dignity carrying out his best friend/mother's wishes.