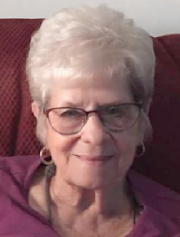 Betty J. Riffle 83 of Cedarville, went to be with her lord and Savior on the evening of Tuesday, March 13, 2018 at her residence with her loving children by her side. Born August 21, 1934 in Boone Co. WV, Betty is the daughter of the late Rex and Virginia Sigmond Ulbrich.

Betty is the former Owner/Operator of the Hacker Grocery Store in Cedarville and later in life was a home care provider through the Gilmer County Senior Citizens Center. She also worked locally at the Glenville Foodland and Gil-Co Pharmacy for a time.

Betty loved to care for her family and spoil her grandchildren and great grandchildren whenever possible. In her spare time she enjoyed reading, cooking, watching the Hallmark Channel, and caring for others.

Surviving are 6 daughters, Vicki Gerwig and husband Larry of Cedarville, Pamela Minigh and husband Paul of Cedar Creek, Becky Minigh and husband Bob of Little Bull Run, Shelli Smith and husband Rick of Martinsburg, WV, Claudette Greynolds and husband Charles of Sand Fork, Dawn Butler and husband Tim of Normantown, 2 step-children, Eddie Riffle and Rocky Ellis, 2 sisters, Lora Canter and husband Bill of Caldwell, OH; and Shirley Randolph and husband John of Akron, OH; and 1 brother, Elden Ulbrich and wife Sonja of Rootstown, OH.

Also surviving are 14 grandchildren, 6 step-grandchildren, 15 great-grandchildren with 2 more on the way, and 7 step great-grandchildren.

Along with her parents, Betty is preceded in death by her husband Charlie Riffle.

A funeral service will be conducted at the Ellyson Mortuary, Inc 2 Vanhorn Drive, Glenville, WV at 3:00 PM; Sunday, March 18, 2018 with Pastor Bryan Groves officiating. Burial will follow in the Moss Family Cemetery. Friends will be received from 6-9 PM; Saturday evening at the mortuary.

Following the committal service at the cemetery, a dinner is being prepared in Betty's honor at the Cedar Creek State Park. All are encouraged to attend and share in food and fellowship.

Ellyson Mortuary, Inc is honored to assist the family of Betty J. Riffle with arrangements.