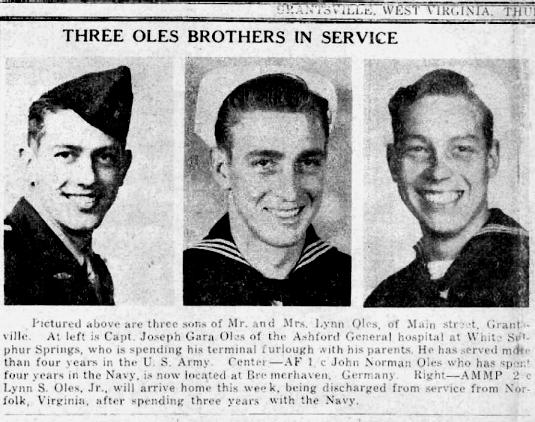 Three sons of Grantsville's Lynn Oles served in World War II
(L to R)Capt. Joseph Oles. US Army four years; AFIC John Norman
Oles, four years US Navy; AMMP2C Lynn S. Oles, three years US Army
By Bob Weaver
The Oles boys lived in what is Grantsville's oldest historic house on Main Street, partly log. See link below.
The structure is known by many in the 20th century as the Lynn Oles (1896-1964) house. Lynn Oles was a member of the House of Delegates and owned the Oles Garage.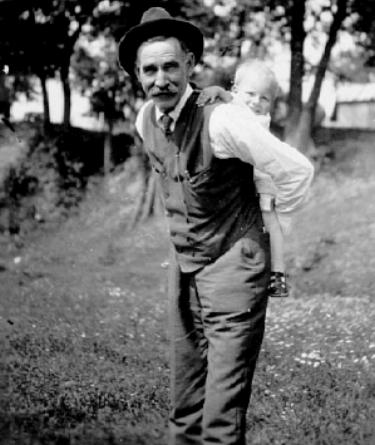 J. G. Oles and grandson, Lynn Oles, Jr. July
1925 (Photo Courtesy of Col. David L. Oles)
The Oles family came to Grantsville shortly after 1900 from Pennsylvania. J. G. "Pop" Oles (1861-1930) came to start Godfrey L. Cabot's carbon black factory, but was also a well-known riverboat builder and operator.
During World War I they brought Ginko trees back from China to be planted on Main Street. They are the world's oldest tree.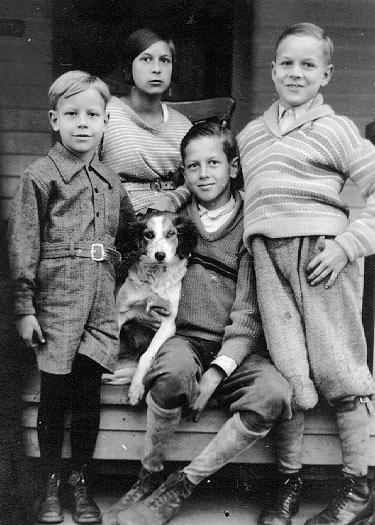 Children of Lynn Scott Oles, Sr. About 1928-29
(L-R) Lynn Scott Oles, Jr., Mabel Charlotte Oles
Prim Howe, Joseph Gara "Gary" Oles, John Norman
"Norm" Oles. The dog pictured was named "Betty"
"No Oles descendants currently live in Calhoun, All that remain are footprints in time, left behind, " said the Col. David L. Oles, who has had an illustrious military career. The Oles family were known as contributors to the life and well being of Grantsville and the county in the early days.
See THOMAS-OLES HOUSE GRANTSVILLE'S OLDEST - Post Civil War Structure