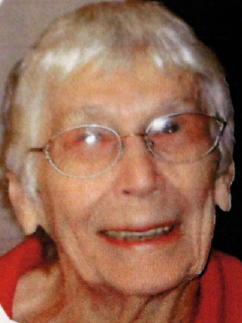 Thelma Lee Ryan Conley, 93, of Spencer, West Virginia passed away peacefully, at her home on March 2, 2018. She was born March 24, 1924 in Spencer to the late Luster E. and Lucille Ryan Raines.

Thelma will be remembered as an outstanding teacher and educator, first at Walton, West Virginia and then primarily with South Charleston High School in Charleston, West Virginia.

She graduated from Glenville State College, Glenville, West Virginia and received her Master's degree at Marshall University in Huntington, West Virginia. After teaching for many years, she became the Supervisor of the English Arts Department. Thelma stayed in her element after retirement by taking a representative position for McDougal Littell, a leading publisher of textbooks. She assisted with textbook orders and made distribution to schools. She strongly believed that getting a good education was vital. She invested her knowledge of grammar, literature, and poetry, taking a personal interest in the success of each student, and established a close friendship with many. She referred to them as her "kids", even though they might now be past 70 years of age. She normally received 100 Christmas cards from former students and friends, along with well wishing telephone calls. Some of her former students kept in touch and visited her until the week prior to her passing. A college scholarship was established and named "The Thelma Conley Scholarship", to be awarded to an all around graduating high school student who wanted to go to college.

Thelma saw beauty in old glass, and loved to collect glassware. She enjoyed showing guests and family her latest finds from auctions, flea markets and yard sales. She had a hospitable nature and loved entertaining family and friends. He door was always open for visitors; the more the merrier.

Thelma is survived by her sister, Margaret Raines and brother, Charles "Chuck" Raines, both of Alberta, Canada; her niece, Rebecca A. Haverty (Leslie); nephew, Stephen T. Ryan (Beverly); grandniece, Ashley Ryan; grandnephews, Stephen Ryan II, Nathan Haverty, and Jason Haverty; great-grandniece, Mira Haverty; cousins, her "kids", and friends. In addition to her parents, she was preceded in death by her brother, Thomas F. Ryan; sister-in-law, Anna Mae Ryan; and brothers, William Henry and John Raines.

Thelma remained in her own home until her passing, thanks to round the clock care by some special care providers. A special thank you with sincere appreciation and gratitude is due Robin Varney, Madge Price, Joeann Gandee, Billie Ketch, and Cora Hively.

A special thank you to Thelma's neighbors, and former neighbors, for their compassion, concern, and thoughtfulness over the last several years. Thank you to George and Doris Weekley, Jim and Carla Chandler, Randy Westfall, Tom and Barbara Smith, Dewayne Cox, and others.

A service to celebrate the life of Thelma Ryan Conley will be held Saturday, March 17, 2018 at 1:00pm at the TAYLOR-VANDALE FUNERAL HOME, Spencer, with Rev. James "Jim" Epling officiating. Burial will be private in the Rose cemetery, Spencer.

In lieu of flowers, a donation may be made to: Thelma Conley Scholarship Fund, South Charleston High School, Attn: Michael Arbogast, Principal, 1 Eagle Way, South Charleston WV 25309.