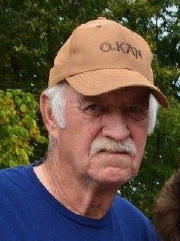 Ernest Clay Francis, 69 of Elizabeth, WV, died March 8, 2018. Mr. Francis was a 1968 graduate of Parkersburg South High School and served in the United States Army for 15 years.

He was a member of the Roofers Union 242 of Parkersburg, WV. He worked for Heck Heckert of Parkersburg, WV for over 30 years. He enjoyed old cars and river boats.

He is survived by his wife of 21 years, Joanne Arthur Francis; children, Cathy Francis Bradshaw (Charlie) of North Carolina, Ernest Von Dem Bach (Christine) of Florida, Joseph Francis of Washington, William Arthur (Marie) of Harpers Ferry, Greg Arthur (Brenda) of Elizabeth, Robin Balderson of North Carolina, Tammy Strong of Brohard, and John Arthur of Elizabeth; grandchildren, Justin, Jamie, Jeremy, Ashley, Brie, Amber, Catie, Bob, Sophie and Christen; great-grandchildren, Emma, Molly, Emerson, Jaxon, Miles, Anna, Gabby, Serenity (BooBoo), Hadley, Avery, Becham, Glota and Fionia; siblings, David Francis, Charlie Francis (Christy), Jim Francis, Frank Francis (Rosie) of Parkersburg, Barbara Bell (Bob) of Parkersburg and Aunt Sis; special friends Scott and Heather Heckert of Parkersburg and Heck Heckert.

He was preceded in death by his parents Earnest and Violet Smith Francis; a daughter Kristen Francis; grandsons Little John Arthur and Jackson Strong; and one sister Susie "Sis" Sams.

Visitation will be Saturday March 10, 2018 at Matheny Whited Funeral Home, Elizabeth, from 2-4 p.m. and the funeral at 4p.m.