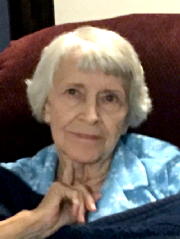 Beverley J. Hall, 75, of Arnoldsburg, passed away Thursday, March 1, 2018 at CAMC General Hospital after a short illness with cancer.

Our beloved wife and mother was born October 18, 1942 to the late Russell and Oma Nester. She loved her family whom she enjoyed every day and rejoiced every day that we could get together and enjoy a meal and a laugh.

Bev's favorite pastimes were the joys of sewing, quilting, gardening, and reading. She was a good cook and known for the best biscuits around. She retired from Minnie Hamilton Hospital in Grantsville as an Emergency Room Nurse. After a lifetime of caring for her family and others, she can rest in comfort in the home our Lord has made for her.

She has left behind her loving husband of 56 years, Dencil Ray Hall; children, Charlotte Murphy (Rick) of MacFarlan, Donald Hall (Connie) of Spencer, Lesa D. Mercer (Donald) of Charleston, and Daniel Hall of Arnoldsburg; grandchildren, Kerry Murphy (Mandy) of Smithville, Terry Murphy (Miranda) of Elizabeth, Andrew Mercer of Charleston, Daniel Lee Hall "Junior" of Arnoldsburg, Brandon Hall of Arnoldsburg, and William Mercer of Charleston; great-grandchildren, Jesse and Frank Murphy of Smithville, Lilly, Logan and London Murphy of Elizabeth; siblings, Faustine Shaffer of Fairborn, Ohio, Inez Tucker (Ola) of Elyria, Ohio, and Roy Nester of Millstone.

In addition to her parents, Bev was preceded in death by her brothers, Lyle, James, Alpheus, and Carl Nester; and her sisters, Emma Deem, Joyce McKown, and Susie White.

The family would like to thank all the doctors, nurses, and staff at CAMC General and OSU James Hospital for their loving care of our dear Beverley.

Service will be at 2:00 pm Sunday, March 4, 2018 at the Arnoldsburg Community Building with Pastor Rick Metheney officiating. Burial will follow in the Road Run Cemetery near Arnoldsburg. Visiting will be Sunday from 12:30 until time of the service at the Community Building.

Taylor-Vandale Funeral Home, Spencer is in charge of arrangements for the Hall family.