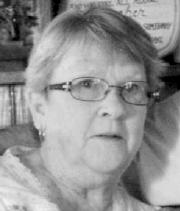 Beverly Marks, 70 of Palestine, WV passed away Feb. 19, 2018 at Camden Clark Medical Center.

She was loving wife, mother, grandmother and a very dear friend to many.

She is survived by her loving husband, Marvin Marks; son, Mike Coe of Palestine; and daughters, Lisa Marks and her children of Woodbridge VA, and Yvonne Marks of Palestine; grandchildren, Zach Greathouse, Sam Greathouse, Levi Mason, and Harlie Mason; brothers, Floyd Cline of Parkersburg and David Coe of Ohio; sisters, Mary (Mark) Pickens, Brenda Coe, and Jeannie Irons all of Fairmont WV; several nieces and nephews; Her Fur Babies, Daisy Mae, Buddy and Spot; Grand Fur babies, Pocket, Muffin and Reba.

She was preceded in death by her daughter Teresa Greathouse; father Jean Coe and stepmother Ethel Coe, and adopted parents Bob and Vonnie Cline.

A Celebration of Life will be held at a later date.

Matheny-Whited Funeral Home of Elizabeth WV is in charge of arrangements.