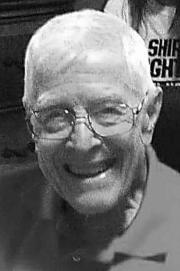 Hubert H. Riddle, 91, of Parkersburg, passed away on Saturday, February 17, 2018 at his residence.

He was born October 31, 1926, Calhoun County, WV, a son of the late Robert and Minnie Barr Riddle.

Hubert was a 1944 graduate of Calhoun County High School. He was also a graduate of Wheeling Barber College and worked at Modern Barber Shop. Hubert was a U.S Army Veteran and served during the Korean War. He was a member of South Parkersburg Baptist Church.

He is survived by his wife of 64 years, Ruth J. Thomas Riddle; two daughters, Kathryn (Steve) Marks of Inwood, WV and Libby (Larry) Wright of Parkersburg; one son, Tom (Mary Beth) Riddle of Parkersburg; nine grandchildren, Steve Marks, Richard Marks, John Mills, Brent Mills, Ross Mills, Holly Riddle, Joseph Riddle, David Wright and Brian Wright; and 23 great-grandchildren.

In addition to his parents, Hubert was preceded in death by his brother, Robert Gale Riddle.

Funeral services will be held at 1:00 p.m. on Wednesday, February 21, 2018 at Lambert-Tatman Funeral Home, 2333 Pike St., south Parkersburg with Pastor Adam Paff officiating. Interment will follow at Eastlawn Memorial Park Cemetery in Marietta, Ohio. Visitation will be held from 3-7 p.m. on Tuesday and one hour prior to services at the funeral home.

The family would like to extend a thank you to Doctors, Braham, Shah and Hamirani, Camden Clark Emergency Staff and Acute Care Unit Staff, nurses and staff of House Calls Hospice, special friends and neighbors for their help, and compassion during this difficult time.

In lieu of flowers donations may be made to the Gideons International, Parkersburg South Gideons P.O. Box 872 Parkersburg, WV 26102.