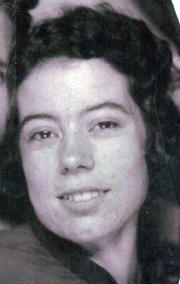 Mary Mae Daugherty, 97, of Elizabeth, West Virginia, passéd away Sunday, Feb 18, 2018, surrounded by her loving family.

Mary was born Feb. 24, 1921, the daughter of the late Cecil E. and Georgia (Coe) Murray. She was a member of Morristown Community Church. She loved canning, quilting, gardening and sharing the fruits of her garden and spending time with her grandchildren.

She is survived by her family that she loved very much, son Tharrel (Patricia) Daugherty of Elizabeth; 2 grandsons, Doug (Tammy) Daugherty of Bridgeport and Darien (Jennifer) Daugherty of Slate Creek; great-grandchildren, Jaclyn, Logan, Jessica and Jenna Daugherty; a special great nephew whom she helped raise, Mike Hall and his children Devyn (and her daughter Avery), Drew and Isaac Hall; brothers, Herbert Murray (Carol Prunty) of Parkersburg and Charles (Grace) Murray of Elizabeth; sisters, Dorothy Cheuvront and Lorraine Roberts of Elizabeth; sisters-in-law, Betty Murray of Elizabeth and Francis Murray of Parkersburg and a special niece Sandy Becky.

In addition to her parents, she was preceded in death by her husband Marvin Daugherty, 5 infant children, brothers John Murray and William Murray, sister Neva Norman and daughter-in-law Shirley Daugherty.

Services will be 11:00 am Thursday, February 22 at Matheny-Whited Funeral Home of Elizabeth with the Rev. Bill Stout officiating. Visitation will be Wednesday, February 21, 2-4 pm and 6-8 pm. Interment will be at the Fairview Cemetery of Courtney Ridge, Elizabeth, WV.

Special thanks to House Calls Hospice and a special thank you to Angelia Nester. Memorial donations can be made to House Calls Hospice, 1604 Garfield Ave, Parkersburg, WV 26102.