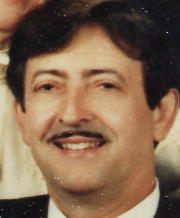 Robert Joseph Minigh age 85 of Cedarville, WV, departed this life on the morning of Saturday, February 17, 2018 at the Camden Clark memorial Hospital in Parkersburg, WV, following an extended illness.

Born July 3, 1932 in Burnsville, WV, Robert is the son of the late Floyd and Lourah Rhoades Minigh.

Robert attended Normantown High School in his youth and worked for Invacare Corp. in Elyria, Ohio, where he manufactured medical equipment. He retired in 1994 with 38 years experience and in his spare time he enjoyed cooking, gardening, lawn care, playing guitar, and singing. Robert was also a very skilled maker of knives and was a Civil War buff.

Robert was a former member of the Cedar Creek Baptist Church and current member of the Dawson Baptist Church. He was a Deacon for 60 years, and would teach Sunday School on a regular basis.

On December 31, 1950 Robert was united in marriage to Lavonne Childers Minigh, who survives at their Cedarville home.

Surviving are 3 children, Eric Minigh (Wavie) of Parkersburg, Michael Minigh of Parkersburg, and Phillip Minigh of East Bend, NC. and special nephew, Daniel Reed (Ann) of Cedar Creek.

Also surviving are numerous, nieces, nephews, cousins, and other family and friends.

Along with his parents, Robert is preceded in death by 4 siblings, Vernon, Earl, and June Minigh, and Freda Conrad.

A funeral service will be conducted at the Ellyson Mortuary, Inc; 2 Vanhorn Drive, Glenville, WV at 11:00 AM; Wednesday, February 21, 2018. Burial will follow in the Cedarville Cemetery. Friends will be received from 5-8 PM; Tuesday evening at the mortuary in Glenville.

Ellyson Mortuary, Inc is honored to assist the family of Robert Joseph Minigh with arrangements.