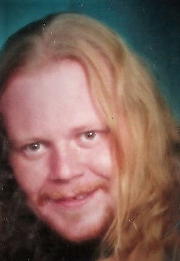 James E. Tanner Jr., 45, of Chloe, formerly of Reedsburg, Wis., unexpectedly passed away on February 8, 2017, in his home, at the age of 45 years.

James was born Nov. 17, 1972, in Mt. Clemens, Mich., to James E. Tanner and Lettie L. Morales (Butcher). He was a 1989 graduate of Wonewoc Center High School, Wonewoc, Wis., and he was previously employed at Kroger's in Gassaway, W.Va., and most recently by Gas Pipeline in Ohio.

Jim was one of a kind, with a great sense of humor, a generous spirit and he made a huge impact on everyone in his life.

He was preceded in death by father, James E. Tanner.

He will be sadly missed by his mother, Lettie Morales; sisters, Kathy Tanner of Fresno, Calif., Debbie (Bill) Watts of Reedsburg; brothers, Brent Morales of Baraboo, Wis., and Michael Morales of Madison, Wis; as well as three nieces, two nephews, special cousins, Trish and John Baldwin of Burnswell, W.Va., and Hope Tanner of Arnoldsburg, W.Va., along with many other relatives and friends.

Memorial service will be 2:30 p.m. Saturday, February 17, at Leonard Johnson Funeral Home, Marmet, W.Va. Friends may call one hour prior to the service at the funeral home.

Condolences may be sent to the family at leonardjohnsonfuneralhome.com and memorial donations may be made to his family in care of Leonard Johnson Funeral Home.