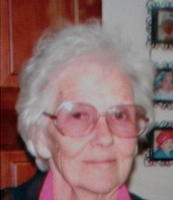 Betty Jo Hall Stein, of Black Mountain, NC, passed away February 9, 2018, after a long battle with dementia. She was born September 14, 1935, in Looneyville, WV, to Romie and Icie Hall.

She graduated from Charleston High School in WV in 1952 at the age of 16; she was proud of being in the marching band and playing the clarinet.

Betty Jo retired from Atlantic Richfield Company in 1995 where she was a Real Estate Conveyancer. Shortly afterward, she moved to Black Mountain, NC.

She enjoyed nature, flowers and gardening. She was a fabulous cook and baker and was always happy to host family and friends for meals. She also loved needlepoint, sewing and quilting.

Betty Jo will be greatly missed by her husband, Daniel Stein; her sons, Tim Offutt (Stephanie), Charles Offutt, and Dave Offutt (Janet); her daughter, Elizabeth Patel (Naseem) and their families, to include 12 grandchildren and 12 great-grandchildren.

She was preceded in death by her parents; her son, Philip Offutt; grandson, Matthew Offutt; brothers, Herbert Hall and Jack Hall; and sister, Mildred Hall Miller.

Viewing will be noon to 1 p.m. Wednesday, February 14, at Taylor Funeral Home, Spencer, WV, followed by a short service.

Burial will be at the Criner Cemetery, Roane County, WV.

Harwood Home for Funerals and Taylor Funeral Home is assisting the family.