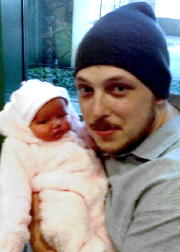 Andrew S. Coon, 28, of Vienna, WV, passed away on Tuesday, February 6, 2018 in Parkersburg, WV.

He was born in Warrensville, Ohio on July 11, 1989, a son of the late Charles H. Coon, Sr. and Darlene Coon, of Vienna, WV.

He is survived by his mother, Darlene Coon and sister Asia Coon, both of Vienna, WV; one daughter, Kennedy Eckstein of Parkersburg, WV; brother Chuck (Kristin) Coon and niece, Avery Coon of Canal Fulton, OH; maternal grandmother, Janet Prendergast, of Bethpage, TN along with several aunts, and cousins.

In addition to his father, he is preceded in death by paternal grandparents Freddie Coon Jr., Murlene Starcher Coon, and maternal grandfather, Ronald Prendergast.

Andrew will be remembered for his love of music, fishing, hunting, running, and his love for his favorite Cleveland Sports teams. His greatest loves were his daughter, Kennedy Aliyah, and a special dog named Bernie whom he called "Bub".

A funeral service will be held at Hur Community Church on Sunday, February 11, 2018 at 2:00 p.m. with Rev. Delmas Stutler officiating. Visitation will be held Saturday from 5-8 p.m. at Stump Funeral Home & Cremation, Inc., Grantsville, WV. Burial at the Fred Coon Cemetery in Hur, WV.

In lieu of flowers, donations to Stump Funeral Home & Cremation, Inc., P.O. Box 579, Grantsville, WV, 26147.