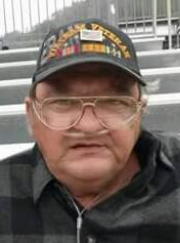 Kenneth Lee Page Jr. age 66 of Normantown, WV departed this life on Tuesday night, February 6, 2018 at his residence with his family by his side.

Born June 25, 1951 in Elyria, Ohio, Kenny is the son of the late Kenneth Lee Sr. and Delight Bowser Page.

Kenny's first job was at 9 years old when he worked at a local junk yard in Elyria. He was a United Sates Army Veteran, having served during the Vietnam War from July 1968 to July of 1971. He worked at the local Dodge Dealership in Glenville and later was the owner and operator of Page Auto Repair in Normantown. Later in his life Kenny began delivering mail in Normantown for the United States Postal Service.

In his spare time, Kenny loved to go racing. It didn't matter what kind of racing it was Kenny loved it all. He was also an avid car man, having owned numerous Dodge, Plymouth, Chrysler, Ford, Chevy, and everything in between. Kenny also loved spending time with family and friends, hunting, fishing and living the quiet life on Page Mountain.

On August 3, 1979 Kenny was united in marriage to Cynthia Ann Johnson Page, who preceded him in death on August 6, 2007.

Surviving are 4 children, Kimberly Miller and companion Delbert Saffle of Akron, OH, Christine Schaab and husband Edward of North Royalton, OH, Kenneth Lee Page III and wife Alecia and Daniel Lee Page and wife China of Normantown; 4 siblings, Ronnie and Randy Page, Rick Page and wife Lois all of Elyria OH; and Cindy McVetta and husband Roger of North Royalton, OH.

Also surviving are 8 grandchildren, Brian, Heather, and Jeffrey Miller, Michael and Johnathan Schaab, Ryan, Daydra, and Roddick Page and 3 great-grandchildren, Aiden, David, and Brielle Miller.

Along with his wife and parents, Kenny is preceded in death by his sister-in-law, Susie Page.

A celebration of life will be conducted at the Ellyson Mortuary, Inc. 2 Vanhorn Drive, Glenville, WV at 3:00 PM Friday, February 16, 2018 with Pastor Bryan Groves officiating. Burial will follow in the Page Family Cemetery on Page Mountain. Friends will be received from 1-3 PM Friday afternoon at the mortuary.

Full Military Honors will be conducted at the mortuary following services and will be provided by the United States Army and the Lewis County Honor Guard.

Ellyson Mortuary, Inc is honored to assist the family of Kenneth Lee Page Jr. with arrangements.