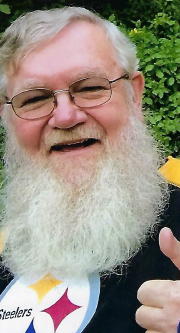 Coy S. Wilfong Jr. age 61 of Portsmouth, Ohio, formerly of Dusk Camp, WV, departed this life suddenly on Saturday, January 27, 2018 at Portsmouth Medical Center surrounded by his family.

He was born March 2, 1956 in Weston, WV. Coy is the son of the late Coy Sulvanus Sr. and Clyda N. Rowh Wilfong.

Coy had several past jobs where he made many life-long friends including, Dowell, Schlumberger, Spurgeon Mortuary, Ellyson Mortuary, Floyd Funeral Home, Pat Boyle Funeral Home, Kenny Self Logging, and Burnsville Lake Marina.

In his spare time, Coy enjoyed spending time with family and friends, hunting, fishing, and camping. Coy also enjoyed mowing grass, relaxing on his porch, watching Steelers Football, and cheering on his favorite NASCAR driver, Dale Earnhardt.

Surviving are his children, Jason Wilfong and Jennifer Wilfong of Weston, WV; 1 step-daughter, Amy Given of Sutton, WV; and 4 grandchildren, Dylan and Ethan Wilfong of Flatwoods, WV; Dakota Wilfong of Glenville, WV; and Kinley Twigg of Weston.

Also surviving are nieces, Donna and David Whitt, Jamie Carmichael and kids Ethan and Hannah, and Amber and Sheryl Hackworth and nephew, Richard Wilfong (Kathy) and kids, Michelle and Stephanie.

Along with his parents, Coy is preceded in death by 2 brothers, Donnie and Teddy Wilfong, and nephew, Bryan Hensley.

A funeral service will be conducted at the Ellyson Mortuary, Inc 2 Vanhorn Drive, Glenville, WV at 1:00 pm Thursday, February 1, 2018 with Pastor Bryan Groves officiating. Burial will follow in the Dusk Camp Methodist Cemetery. Friends will be received from 11-1 Thursday morning at the mortuary.

Ellyson Mortuary, Inc. is assisting the family of Coy S. Wilfong Jr. with arrangements.