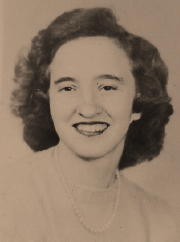 Unabelle Rebecca Boggs, Ph.D., 88, of Akron, Ohio passed away January 22, 2018 at the Cleveland Clinic/Akron General Justin T. Rogers Hospice Care Center.

She was born August 5, 1929 in Looneyville, WV, the daughter of Ralph C. and Rebecca L. Boggs. She grew up on a farm in the beautiful foothills of WV and attended Spencer High School.

After graduation, Unabelle went on to further her education and contribute to science research. She received a B.A. from Berea College, Berea, Ky in Biology and Chemistry, 1952; M.A. from Columbia University, NY in Human Anatomy, 1956; a Ph.D. from the University of Maryland, College Park in nutrition, 1958.

She was a teacher, lecturer and tutored as well as a researcher in course development for Remedial Chemistry at the University of Bridgeport, Bridgeport, Conn. She did research and was assistant professor at The Ohio State University, The University of Maryland, and Columbia University. She was a U.S. Public Health Predoctorate Research Fellow at the University of Maryland, 1955-57. In 1973 Unabelle began a private orthomolecular nutritional consulting business involving various nutritional deficiencies pertaining to health and disease with a focus on mental disorders and learning disabilities.

Unabelle received numerous grants for research and was a member of several professional societies and was listed in Who's Who in American Women among other national recognitions. She was published in a number of professional journals, including the Miller Pharm. Symposium for Physicians and the U.S. Senate, Subcommittee on Health, 1974.

Even though Unabelle left her home in WV to pursue a career in science, her love for the farm she grew up on remained strong. After years of struggling with Alzheimer's and her failing memory, whenever taken back to visit the farm she would look around for several moments and then reply, "I'm home!"

After retirement, Unabelle enjoyed the outdoors, especially gardening but her greatest enjoyment came from spending time with her grandchildren.

Unabelle was preceded in death by her parents, brother Harry Boggs and sister Effie Creamer. She is survived by her two children, Ralph Clay Blackwood of Akron, Ohio and Susie Cahlik (Jim) of Wadsworth, Ohio and grandchildren, Rachel Hopp (David), Vince Reddish, James and Alyssia Blackwood.

She is also survived by two sisters, Marion Mace and Gail Popp.

Visiting hours with the family will be at Taylor-Vandale Funeral Home in Spencer, WV, on Friday January 26, 2018 at 11:00-11:45 a.m. and memorial service immediately following with Rev. Robert Holland officiating. Burial will be in Clover Cemetery.

A reception will follow at St. John's Methodist Church in Spencer.

In lieu of flowers a memorial gift may be given to The Cleveland Clinic/Akron General Justin T. Rogers Hospice Care Center or to Alzheimer's Research of your choice.