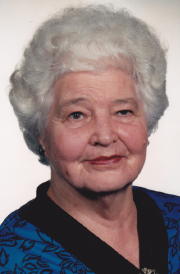 Sarah Gretchen Lester of Pink, West Virginia, died January 16, 2018, at age 100.

She was preceded in death by her husband, John Wellington Lester, her son, Wayne Lester, and her grandson, Loren Lamb.

She is survived by her daughters, Johanna Lester of St. Paul, Minnesota and Linda Crawford of Pink; her granddaughter, Molly Lamb of Quincy, MA, her grandson, David Crawford of Quertaro, Mexico.

She was born in Callahan, Florida to John Irving Whitworth, a Methodist minister, and Jennie May Braddock Whitworth, a mother who made sure her seven children had music lessons. They lived in Homestead and later Pompano Beach.

She attended Florida State University in Tallahassee where she met her husband, John Lester of Pink. From a young age she had a beautiful voice. She sang and played the piano in churches in Orange, Texas, Elkview, Hillcrest in Spencer, Arnoldsburg, Boggs Fork, and Minnora.

Everywhere she lived, she had a garden with flowers and vegetables. She did not have an easy life and found much solace in her Bible.

The family wishes to thank the staff of Extended Care at Roane General and the Hospice team for their kindness and compassionate care. Memorials can be made to the Disabled American Veterans or Big Oak Ranch for Children.

There will be no service at this time. A memorial service will be held in the spring.

Taylor-Vandale Funeral Home in Spencer, West Virginia is in charge of the arrangements.

Read front page story about Lester family.